Fried eggs
Fried eggs
preparation time:1 -3 minutes
cooking time:3-5 minutes
skill:basic
tools:
- chopper or knife with wide blade
- chopping board
- pan or wok
- spatula
Ingredients: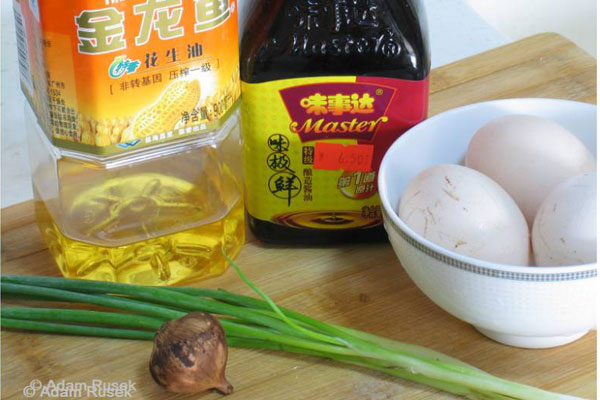 -eggs(forfull breakfast I usually use 3). You can buy it in many "cornershops" or on "wet markets", 0.5-2 RMB/pc, depending on weight and "quality of shop".
-Chinese garlic. Smaller then european, almost the same taste (little stronger maybe), easy to handle. Available in department stores, wet markets etc. Price per one piece much less than 1 RMB (buying by weight).
-green onions. Available in every "green market". Very, very cheap... Well below 0.5 RMB for quantity that we want to use for one person (as on picture).
-oil (for frying).I use peanut oil, because I like it's delicate taste, but any is suitable for this dish.
-light soysauce. Replaces the salt, and gives special taste, that differs this dish (along with garlic) from western cuisine. Buy best quality available - this matters. Price - few RMB per bottle, that lasts for months when using as a spice and condiment.
Preparation:
-crush the garlic with chopper, or wide-blade knife, as seen on pictures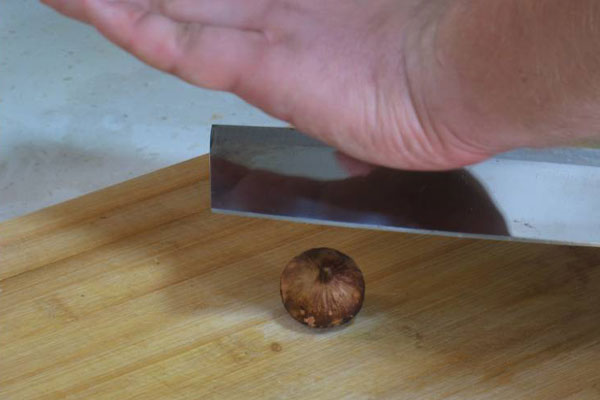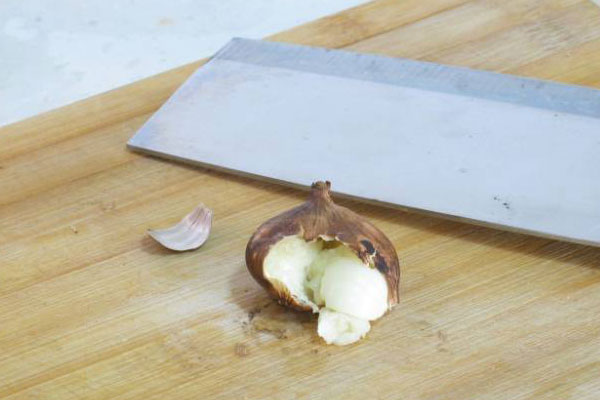 after that,peel is easy to be removed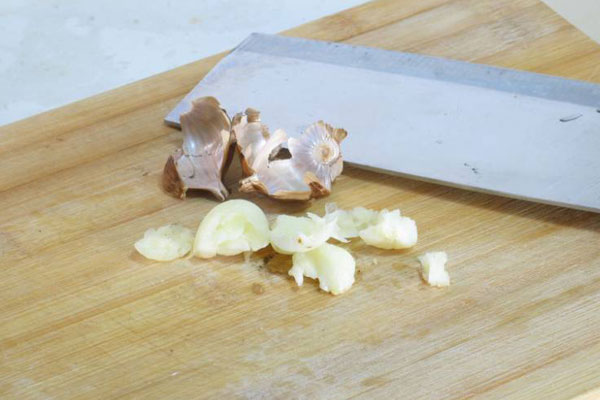 - chop the garlic. Using chopper or wide-blade knife, when tip of the blade rests on the board. After each "chop" blade moves almost itself for few mm, and by repeating that operation soon we have nice chopper garlic ready.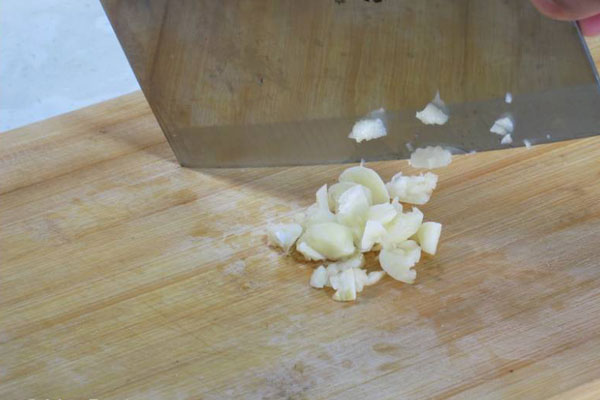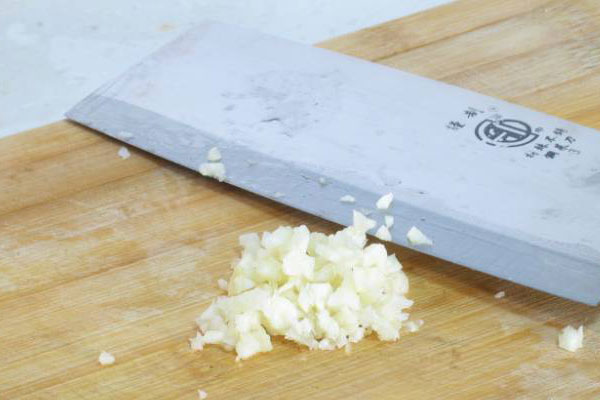 - chopp the green onions. The same way like garlic, in equal pieces.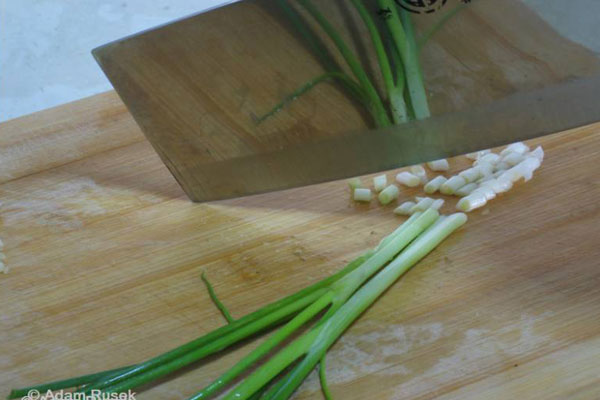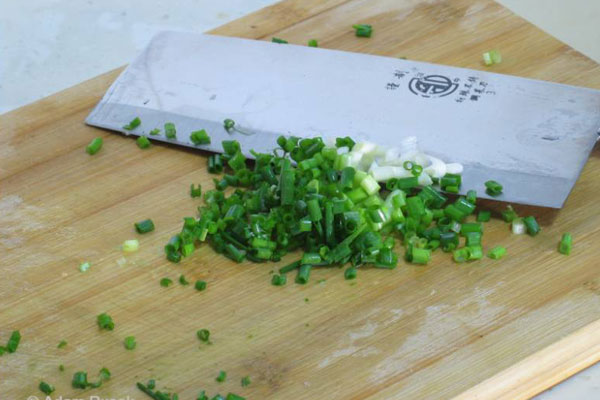 - wash the eggs (important!) under the warm water just before procesing. If you do it earlier - egg will lose natural protection against infections and becomes "bacteria processor in your fridge".
- breaking the eggs into a small bowl. Helps to add all eggs on the pan in the same time, and we can check if eggs are "healthy looking".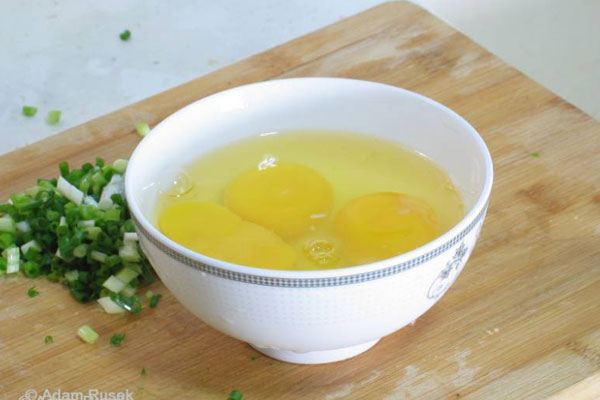 - heat the pan (low heat), add some oil, and garlic, let it fry for 0.5-1 minute, to transfer taste into the oil, but avoid completely browning. Golden color is the signal to remove it on the plate.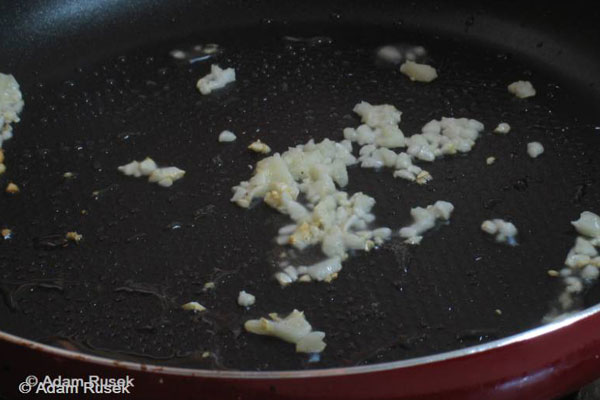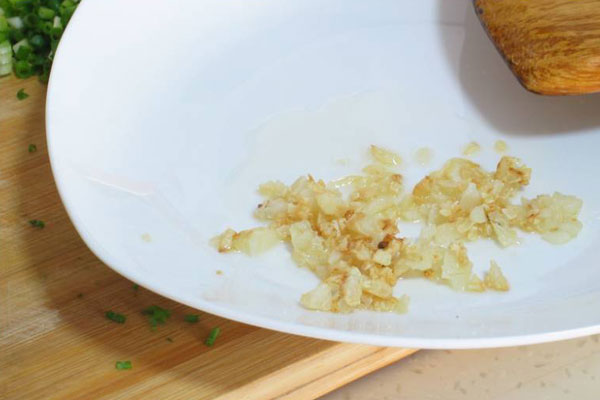 - fry the eggs, by simply putting it into the pan, and fry any way You like. For liquid yolks - no more then 2 minutes, for harder - up to 3 or 4 minutes.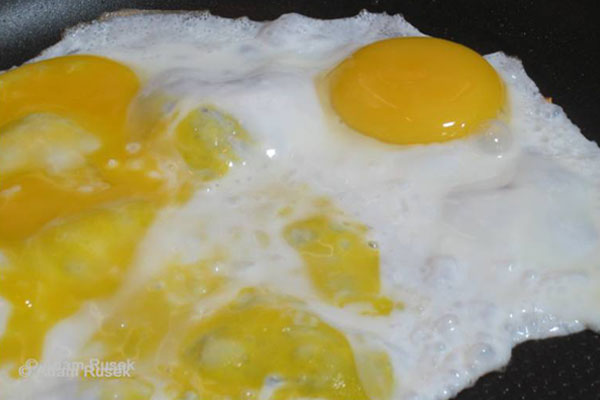 - when frying eggs - add previously removed garlic. Now it can transfer its taste to the eggs.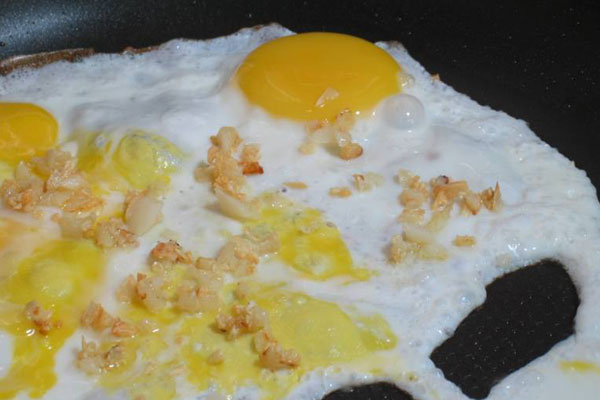 - when eggs are ready - put it on the serving plate (I usually use the same that for garlic), and decorate with green onions.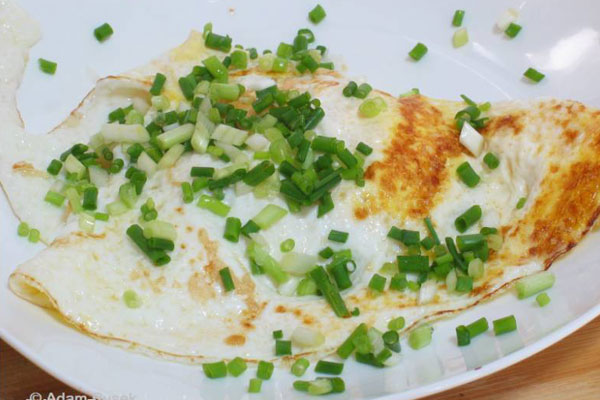 - add some good quality light soy sauce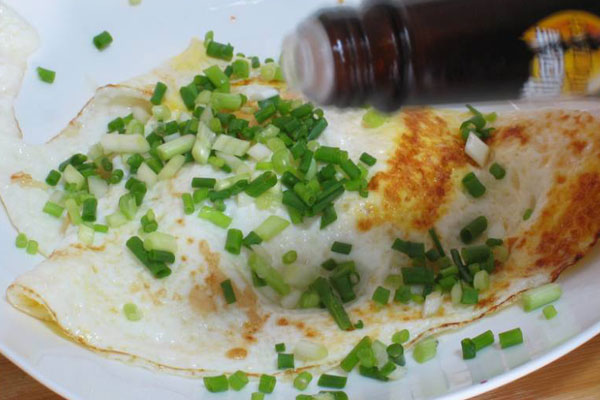 - and enjoy your breakfast