Fish on the Bed
Fish on the Bed
preparation time:
- fish about 5 minutes plus overnight rest in fridge
- cooking day – 10-15 minutes
- cooking time: 15-20 minutes
- level: easy
Ingredients:
-fish. In Chinese recipes we usually see all fish, but gutted. In this recipeI used chunk of quite big fish, about 200-250 g. I like using big fish, because bones are easy to remove – there is very small risk of choking by fishbone. Cost – about 5 RMB for good quality piece of fish. Available in "wet markets",and department stores (I prefer wet-markets, but it is always up to you).
-green peppers. Little spicy, middle size, but you can use as well red ones,and not spicy at all – as you wish. Available on green-markets and wet-markets,very cheap. Shown quantity costs no more that 2 RMB.
-red peppers. Small red peppers are usually spicy, so are "mine" J. Use as many you like, if you likevery spicy - then 5+, if more delicate – try begin from one. Not as cheap as bigger cousins, but still used quantity matches level of about 1 RMB.
-ginger. Use always fresh, juicy one. Available in every green-market. For all"root" (this is not a root) about 5 RMB, chunk shown on picture is maybe 1/10 of "root".
-garlic. Chinese one. Described before.
-green onion. Described before.
-"five tastes spice" (Wu Xiang Fen). Common spice, available in many corner-stores, and markets of course. Cost – few RMB. You can use any other up to your taste.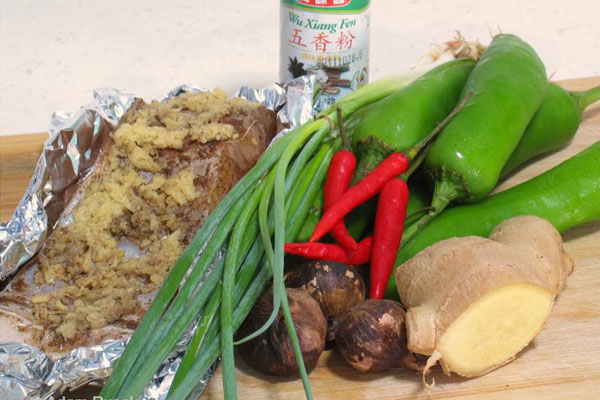 Cooking:
fish should be simply washed, and then spiced by minced ginger and WuXiagFen one night in fridge will allow tastes to mix and immerse into the fish.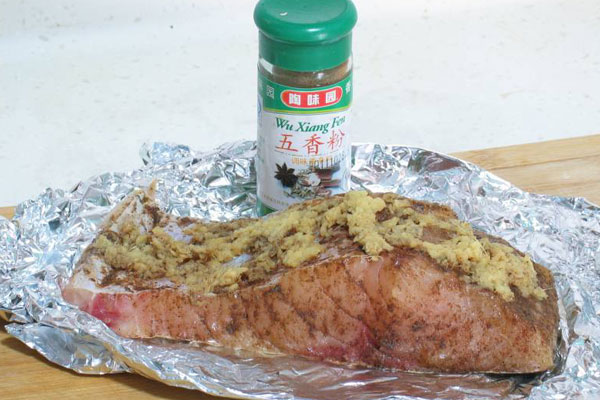 - prepare "bed of ginger"
scrape-out ginger peel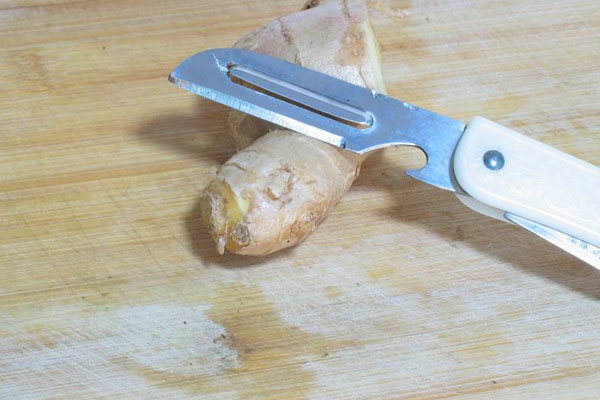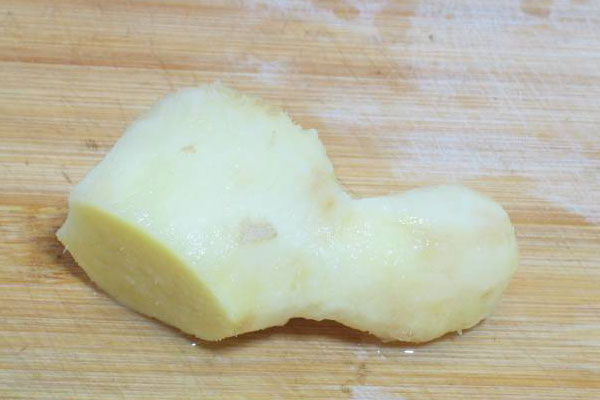 cut ginger in 2-3 mm thick slices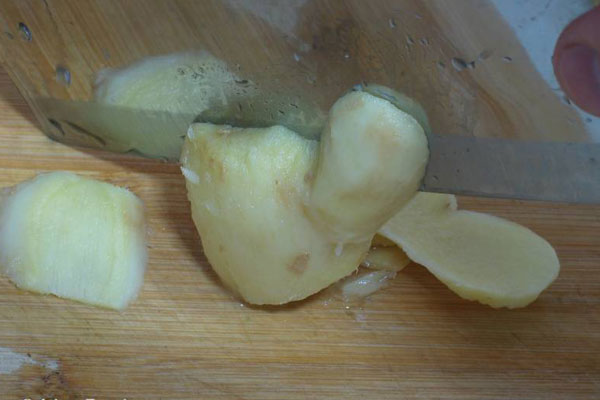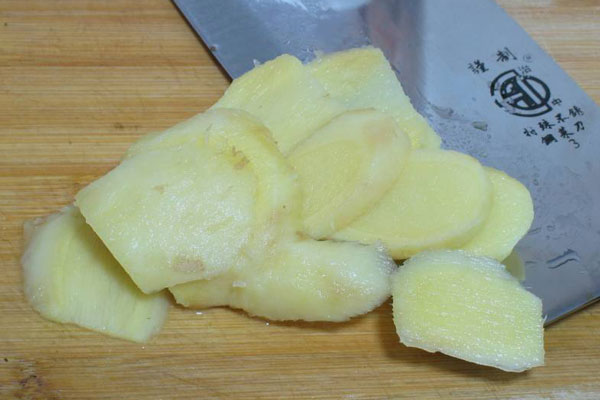 cut slices into "matches"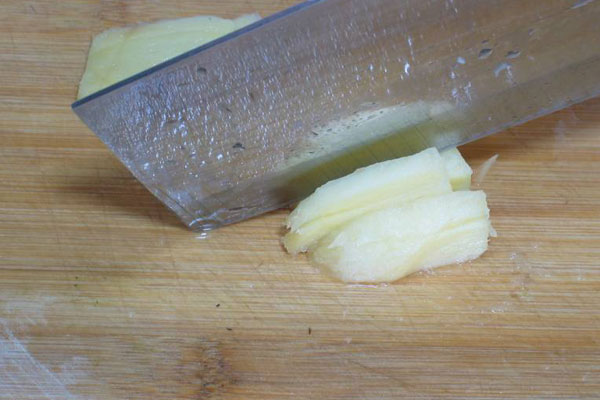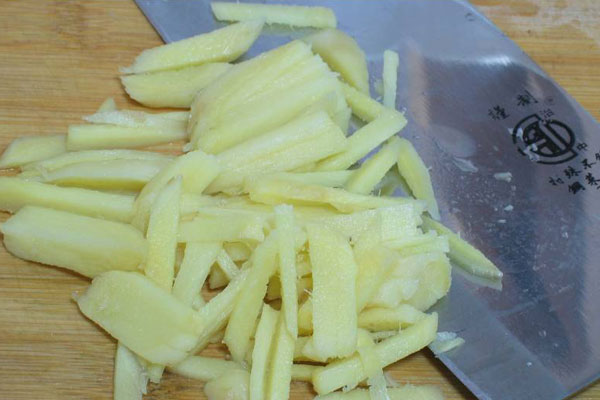 crush and chop garlic, add to ginger and put aside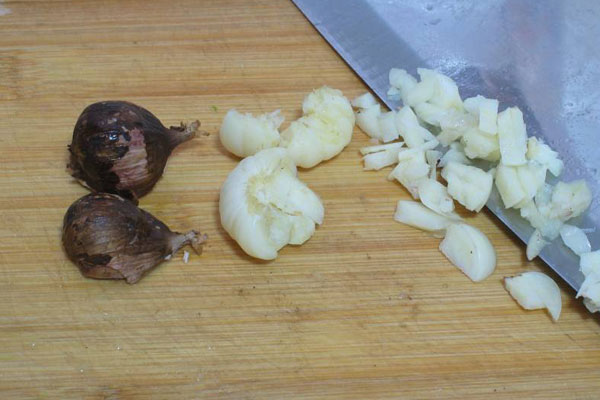 - prepare green peppers
cut-out ends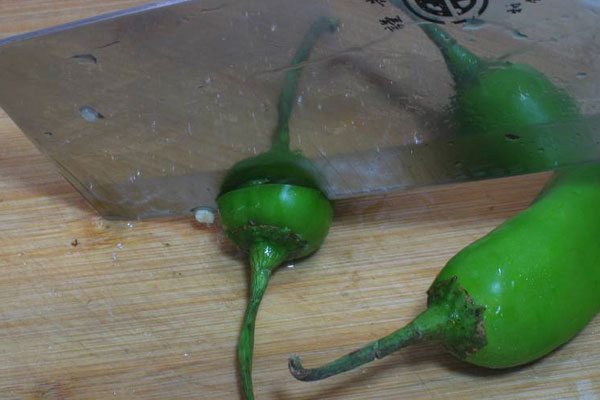 remove seeds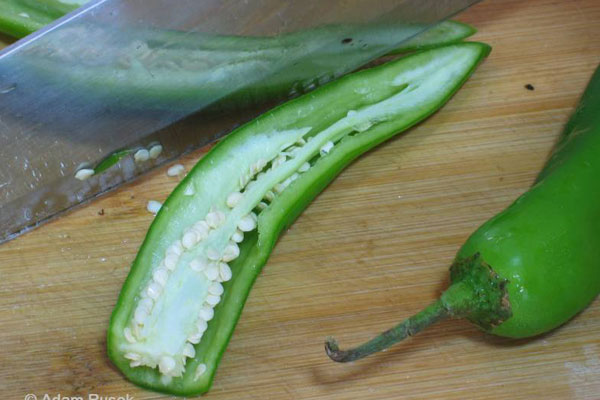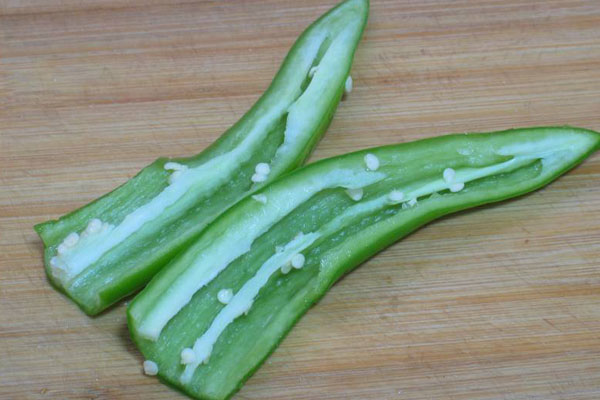 chop diagonally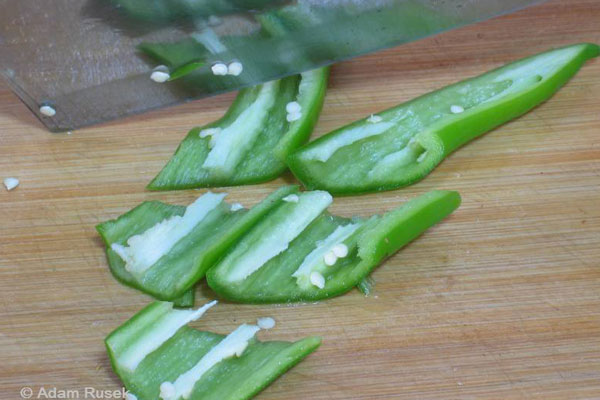 - chop red peppers into small pieces, with seeds, remove only green ends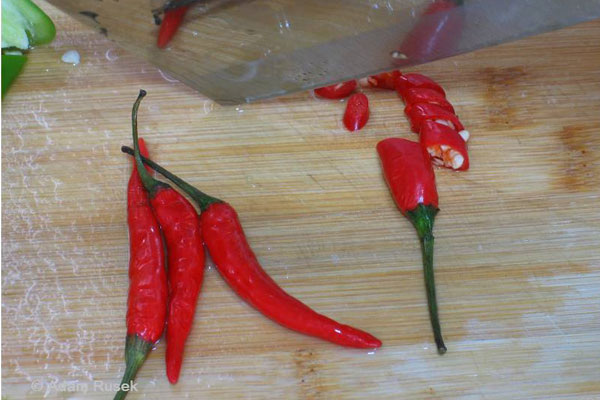 - chop green onions, diagonally, in small and equal pieces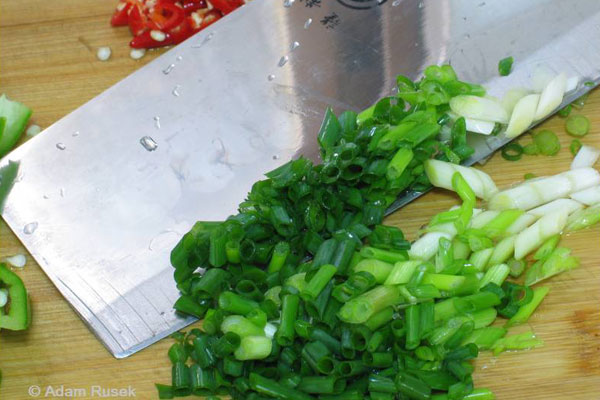 - heat wok (very hot), add some oil, and fry the fish 10-15 seconds on both sides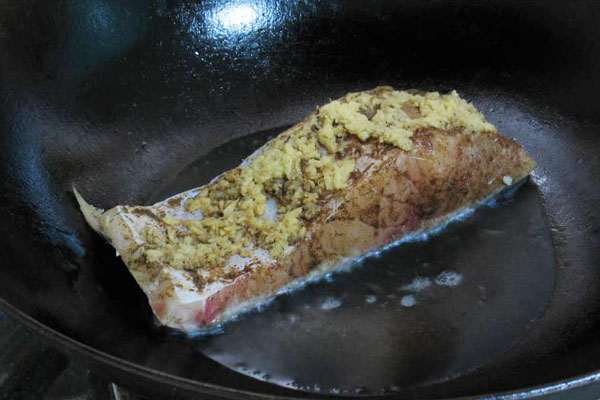 - remove fish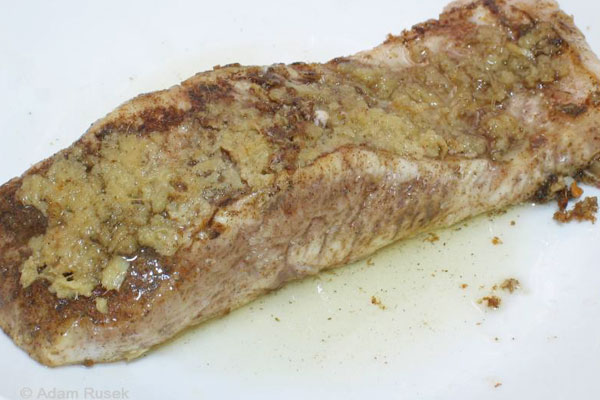 - set medium heat
- add chopped ginger and garlic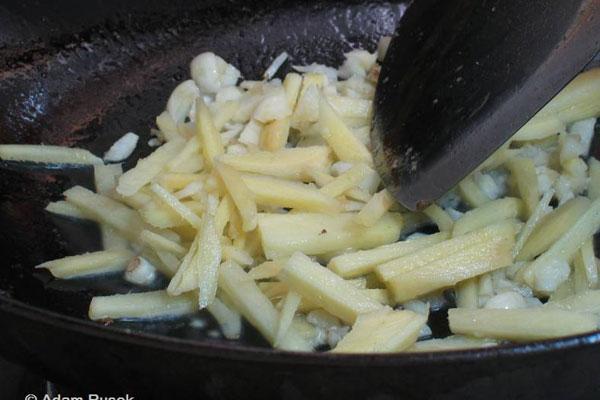 - put fish on "bed" of ginger and garlic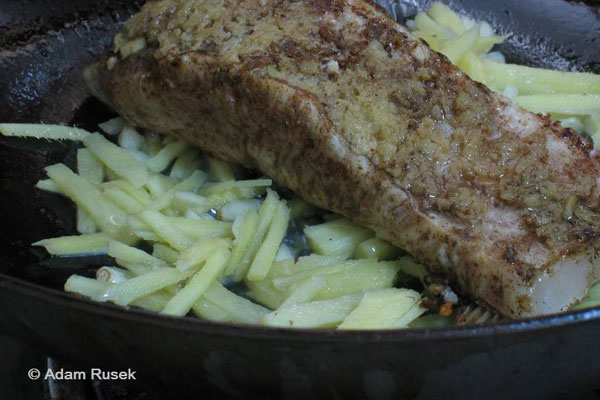 - on both sides add green pepper, and red one – on the very top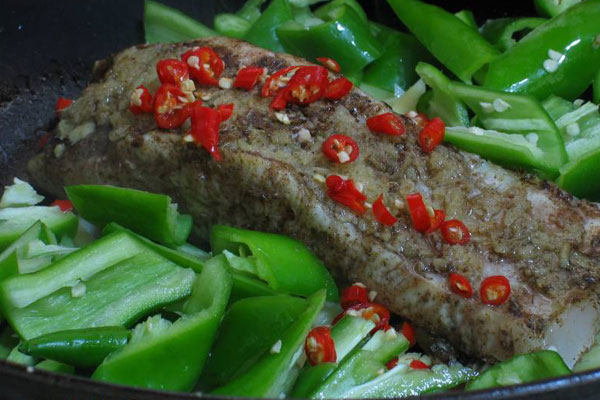 - add 1/4 glass of water
- cover and let it steam for about 10 – 15 minutes, allowing to evaporate all the water, and adding a bit if necessary if evaporate too soon.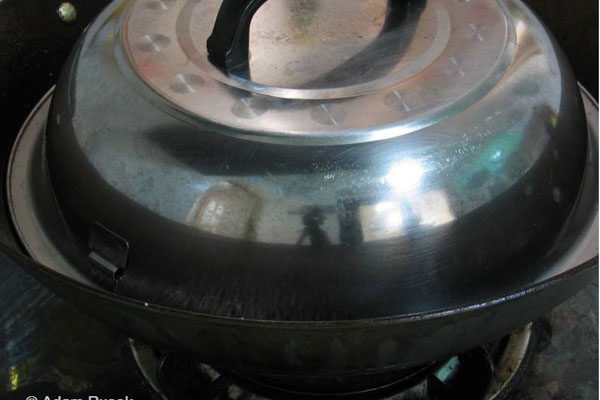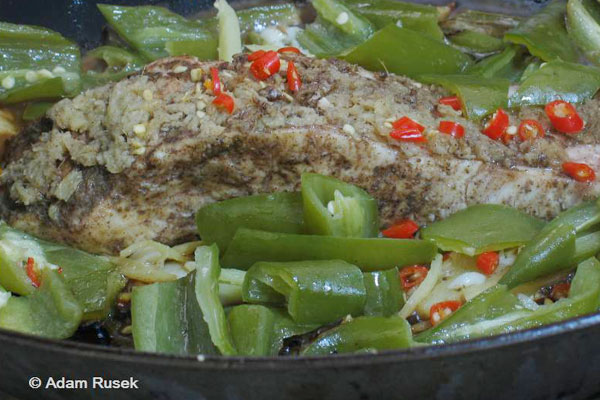 - serve with green onions, and a bit of oyster sauce or light soy sauce