Samui sunshine plates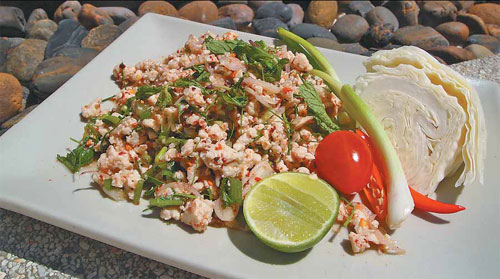 Larb Gai, or Thai Chicken Salad: A holiday recipe you can take home from Akaryn to relive the pleasures of sun, sea and sand. Photos by Pauline D. Loh / China Daily
Dazzling sunshine, balmy breezes and warm blue waters set the stage for an unforgettable cooking lesson. Pauline D. Loh goes back to school.
Thai food, Thai hospitality and the soothing beauty of Koh Samui all these made the invitation irresistible. For three days, we could laze at the pool, indulge in massages and spa treatments, and choose between mango and pineapple juice, deckchair and beanbag.
But for me, what clinched the deal was this carrot I could cook along a handsome Spanish chef who once worked with Ferran Adria at El Bulli. My husband and I packed our bags, with an extra case for all those Thai ingredients I was going to bring back.
The Akaryn Resort in Koh Samui is hidden in its own private cove on Bophut, and it's an exclusive all-villa resort that caters to those willing to pay for privacy and quiet. There is none of the hustling and bustling that characterizes busy Chaweng Beach or even the relatively more tranquil Lamai Beach.
Akaryn has its own stretch of sand, named after the Indian monkey deity Hanuman. While we were there, we often heard his descendants calling, although we never did see any. In fact, they were as invisible as the service crew, who seem to miraculously clear up and clean up every morning without us even noticing.
We met Ivan Alvarez, 30, the young Spaniard who is executive chef of the Akaryn kitchens.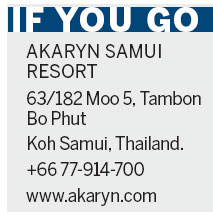 Born in the Canary Islands, Alvarez traveled and cooked almost as soon as he cut his teeth, first learning from his aunt at home and then later taking apprenticeship in top kitchens in Barcelona. He headed east after his last stint with El Bulli, the final month after Ferran Adria decided to close that iconic restaurant.
Alvarez is passionate about Thai food, and one evening, he even takes us to what he calls the best Thai restaurant on Koh Samui. He flirts a little with the Thai waitress but turns serious when he orders the food, in fluent Thai.
He tastes the green papaya salad, and sends it back. "You forgot to add the dried red shrimps," he tells the waitress. There is no doubt about it, Alvarez has made it his business to understand Thai food.
In the meantime, we tuck into a deep-fried sea bass smothered in sweet and sour sauce and I persuade him to tell us the gossip in El Bulli's kitchen. He obliges.
The next morning, he hands us over to his Thai sous chefs, modestly telling us that they are the better teachers when it comes to local cuisine.
I make the spouse take the lesson, so he can make good his boast that he is the better cook. But from the sidelines, I look on and pick up the most amazing kitchen tricks. Finally, too, we learn the secrets to a good green papaya salad, a favorite order whenever we visit a Thai restaurant.
The trick is to chop the papaya, making vertical cuts at least 2 cm deep without cutting into the core, and then shearing off the shreds by slicing from the sides. It was amazingly easy, although I would hold the green papaya with a towel so you would not slip and cut your hand. The raw fruit oozes papain, that silicon-smooth enzyme that also tenderizes meat.
In the bright sunshine, under the canopy of the sea almond tree, the Akaryn chefs patiently taught us three more dishes - chicken satay, a spicy, tart minced chicken salad called Larb Gai, and an easy Massaman meatball curry.
These recipes were the best souvenirs we had of our three days on this island in the sun, apart from the bagful of ingredients we brought back to make the dishes with.
But that's what it is. Food is very much part of the pleasures of a vacation, and the Akaryn has simply made it all complete by offering good food, comfortable accommodation and cooking lessons.
Contact the writer at paulined@chinadaily.com.cn.