Creating identity with food choices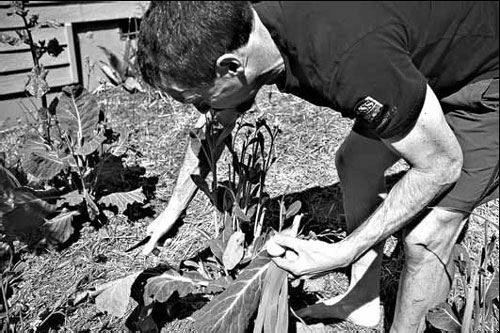 Detective Daniel Kraus of the Clackamas County Sheriff's Office in Oregon says he chooses food that reflects his conservative ideology. Leah Nash for The New York Times
Related readings:


 Olympian bites


 Oysters with a view


 Traditional Italian pizza


 Hunan charmer in Shanghai
When Joanne Heyman, who owns a consulting firm in New York, organized a business dinner for two dozen people, she started getting last-minute notes from guests saying they were vegetarian, vegan or gluten-free.
"The distinction is not that people have restricted diets," she said. "It's their attitude about whose responsibility it is to meet their dietary needs."
More and more eaters appear to be experimenting with self-imposed limits, taking a do-it-yourself, pick-and-choose approach to restricting what they consume. Where are all these atomized eating habits coming from? Unlike the diet fads of yesteryear, many contemporary eating styles aim to affirm your ethos rather than get rid of your pot belly.
Today's restricted eaters are prone to identity-driven pronouncements along the lines of "I'm gluten-free." Consumers seem to be building self through sustenance, adjusting their appetites to reflect independence and moral character.
"It's an alternative way of finding an identity in a place where identity is increasingly uncertain," said Richard Wilk, the director of Indiana University's doctoral program in food studies. "So much of our lives are completely out of our control."
Meredith Yayanos, a founder of the alternative culture magazine Coilhouse, adapts her diet to influence her mood. "I love the idea that there's a mix and match going on," she said.
Ms. Yayanos first dropped gluten, sugar and carbohydrates on a friend's advice after being mugged at gunpoint, a trauma that left her fending off panic attacks and depression. "Within 48 hours, it felt like a thick layer of gauze had been pulled off my brain," she recalled. She's noticed her friends experimenting with food, too, essentially "hacking" their bodies.
But Fabio Parasecoli, the coordinator of food studies at the New School in New York, worries that diverse diets can kill the pleasure of shared meals. "For me, food is very social," he said. "It's difficult when dietary choices prevent people from fully participating in social life."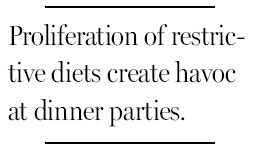 Meg Geldart, a circus acrobat in Portland, Oregon, frequently cooks meals with as many as 20 friends who are, variously, omnivorous, gluten free, dairy free, soy free, vegetarian, vegan, diabetic or allergic.
"It just became havoc," Ms. Geldart said. But with careful planning (plus a lot of recipe collecting and cross-referencing of diets), she said she has been able to ensure that, at any given meal, everyone can eat something.
Still, patience for restricted diets may be waning. On the Web site of the weekly Portland Mercury, anonymous readers recently aired their frustrations. "At restaurants, I ask for extra gluten on everything," one wrote.
Some restaurants steadfastly refuse to change a dish to meet restrictions, on the grounds that even small alterations can slow a busy kitchen and butcher carefully calibrated recipes.
Last year, Gjelina, a Los Angeles restaurant with a no-alterations policy, made headlines after refusing to sideline the toppings on a smoked trout salad for Victoria Beckham, who was pregnant and dining with the celebrity chef Gordon Ramsay. Both guests walked out.
By controlling consumer spending, restrictive diets also make personal choices political.
"The government-industrial farming complex really offends me," said Detective Daniel Kraus, with the Clackamas County Sheriff's Office in Oregon City, Oregon. "I'm a Ron Paul Republican."
He added: "When I go to the grocery store, it makes me mad that I can't buy barbecue sauce because the No. 1 component is high-fructose corn syrup."
Josh Ozersky, the founder of Meatopia, an annual bacchanal for carnivores in New York City, argued that the atomization of eating styles is about more than health, blaming American diners' "growing infantilism and narcissism."
Does Mr. Ozersky plan to accommodate dietary diversity at his next event? "Meatopia is all meat," he said. "Anyone who doesn't like that can go to vegetopia."
The New York Times