A french connection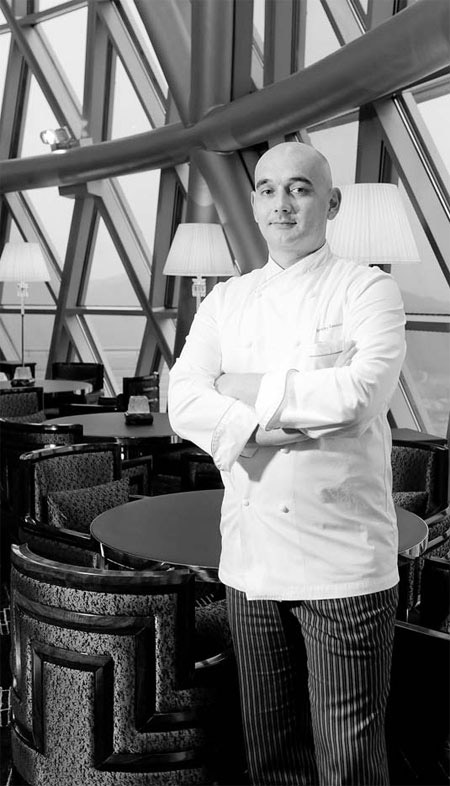 Francky Semblat, executive chef of Robuchon au Dome. Provided to China Daily
After more than a decade in Macao, Francky Semblat's restaurant can challenge some of the finest dining establishments in Paris, Rebecca Lo discovers in Macao.
Luck is an elusive thing, as anyone in the gaming enclave of Macao can tell you. No matter how skilled you may be, an element of fortune is needed to propel the merely talented to stratospheric levels of success. Francky Semblat understands that while he is dedicated to fine French cuisine, it was luck that led him to Joel Robuchon.
"I knew about him from his books and TV," recalls Robuchon au Dome's 35-year-old executive chef, relaxing before a busy lunch crowd in the dazzling new premises on the 43rd floor of Grand Lisboa Hotel. "But in France, it takes a lot of hard work to get a Michelin star much less work for a Michelin-starred restaurant. I sent my CV to 20 chefs and only Robuchon replied."
The two are both from the Poitou-Charentes region in western France, famous for its production of cognac. Semblat was 18 at the time. Although he had already been working at a brasserie in Niort after studying at Le Lyce Hotelier de la Rochelle, moving to Paris was his first foray into the major league.
"When I moved from the countryside to the capital, I realized that my cooking knowledge was not up to par," Semblat admits. "Joel taught me the proper techniques and respect for produce."
In much the same way that a classically trained ballet dancer can perform virtually any other type of dance, a classically trained chef in fine French cuisine can cook brasserie-type dishes - and Semblat quickly learned why Robuchon is widely considered to be one of the best chefs in the world.
Luck came calling again in 2000, when Lisboa Hotels' executive director Alan Ho approached Robuchon to open his first outlet in Macao. "I didn't know where Macao was!" Semblat smiles. "I thought: Why not? I was single and can adapt anywhere."
When he arrived to open Robuchon a Galera in Lisboa Hotel, the city was just starting to see the beginnings of new development after the 1999 handover. "It was like being in the countryside," Semblat recalls. "Relaxed, without too much pressure. And Hong Kong was close by if I needed a big-city getaway."
He found it easy to settle into his new home, as the Portuguese remnants of the city in its architecture and food made him feel a little like he was still in Europe. "The main challenge at the time was where to get produce for a fine French restaurant," he says. "Now, suppliers are fighting to get into the Hong Kong and Macao dining market. The best products in the world are here. China has the financial power and European suppliers know they can sell here for a good price."
Semblat worked closely with Robuchon to develop a menu that not only reflected the quintessential Robuchon experience, but is also sensitive to Asian palates while showcasing the region's finest produce. One of its signature dishes is grilled Kagoshima beef, perfectly seared and with its rich marbling meltingly delicious.
"Traditional French food doesn't have as much contrast as Chinese food," Semblat explains. "So we adapted some of the items to suit Macao's customs and tastes." Robuchon himself visits Macao every quarter and hosts a gala dinner featuring a special menu introducing new dishes to be incorporated into the menu.
"Our dishes are more health conscious today," Semblat notes. "We don't use as much butter or cream any more, and less sugar and salt as well."
Semblat is monitored weekly by Ho himself, who sits at a quiet table every Thursday at one of his coffee shops to personally taste dishes from every single outlet in the Lisboa Hotels complex. "I don't think we would have stayed as long here without the support of Alan Ho," Semblat says. "He is a very dedicated boss who is really into food and wine."
On his one precious day off per week, Semblat catches up on sleep or hangs out with local friends and the small community of French chefs in Macao, enjoying home-style dishes such as rice casseroles.
He rarely cooks at home, but when he does, he carefully uses a treasured Japanese knife to prepare simple meals. "It is my most important piece of equipment."
When he travels, he heads to Thailand to relax or Japan to enjoy the cuisine there. And he will also check out the competition in his native France when he heads home for holidays.
With the restaurant receiving three Michelin stars for four consecutive years under his expert guidance, it seems that chefs should be traveling the other direction.