Yunnan stakes its claim to best duck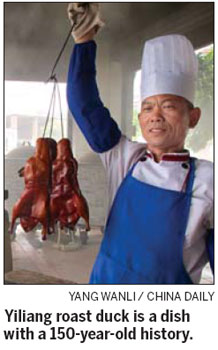 Kunming - Peking roast duck may be the country's most famous duck dish, but people from Yunnan province always say the best ducks come from Yiliang county in the province.
The unique fragrance and tender meat of Yiliang duck is by no means inferior to its Beijing counterparts, says Lan Xuecheng, a 53-year-old restaurant owner in Yunnan's provincial capital Kunming.
It is less greasy than the Peking duck, says Lan, whose restaurants are known for Yiliang roast duck.
Peking duck is usually served with steamed pancakes, which is used to wrap the meat and slices of cucumber and shallots; while Yiliang roast duck is served with only shallots and soy sauce.
Lan adds one of the secrets of tasty duck is removing the innards, to keep the flavor of the meat.
Yiliang roast duck is said to have been created by Yunnan's Zhang Wen, in the Qing Dynasty (1644-1911). Zhang previously went to Beijing to learn the art of making roast duck and then returned to his hometown of Yiliang to run a roast duck restaurant.
To adapt to local conditions, Zhang used local ducks, which are smaller, and added honey for seasoning.
Zhang also roasted the duck in a closed oven made of mud, instead of using an open fire. The oven is heated by burning pine branches, which add a special fragrance. The closed oven keeps a steady temperature inside, and it takes about 50 minutes to roast one duck.
Zhang's recipes and methods have been passed on for generations in the province. Lan is one of those who still hold on to this tradition.
Born and raised in Yiliang, Lan started his restaurant business by chance.
In the late 1970s, Lan had a building materials business in Kunming. In order to maintain good relations with his friends and customers, he often bought them roast ducks as gifts from his hometown. His interest in this delicacy grew with the years. He opened his first restaurant in 1990.
Lan's business has expanded successfully over the past decade, with six restaurants in Kunming, receiving more than 400,000 guests every year.
In addition to Lan's restaurants, there are many other local eateries serving their special duck dishes. Hongxiang Restaurant in Goujie Street is the most well known.
For travelers who want to take home a roast duck as a gift for friends, Li's Roast Duck is the best choice. Li's brand is famous for its duck roasted with local spices.
Yiliang county has more than 1,000 duck farms, providing about 400,000 ducks every year.
The Yiliang Roast Duck Festival has been held annually since 2005.