Duck dish proves a hit in Fujian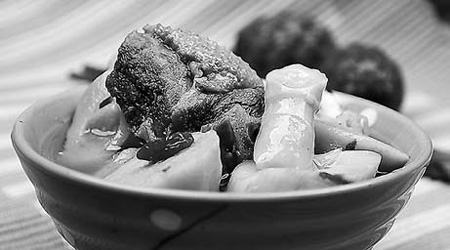 Duck cooked with betel nut taro is a popular delicacy for people living in East China's Fujian province. Provided to China Daily
FUZHOU - People in East China's Fujian province eat ducks during the Mid-Autumn Festival because it is the time of year when the birds are the tastiest.
They use ducks and locally grown taro to cook a mouthwatering dish called braised betel nut taro and duck.
The betel nut taro, a species of taro, got its name over 1,000 years ago because its veins look just like the betel nut.
Mainly produced in Fujian and Guangxi Zhuang autonomous region, betel nut taro has high levels of starch, protein and many vitamins, and it has a special flavor.
It also has many medicinal qualities and was once chosen as a tribute to serve imperial families during the Qing Dynasty (1636-1911).
The dish is very popular in Fujian and almost every family in the southern part of the province cooks it to celebrate the festival. And, it doesn't take much time to cook or a require a great deal of culinary skills.
Recipe |braised betel nut taro and duck
Ingredients:
1 duck, about 1.2 kg
Betel nut taro, 500 g
Wet starch, 10 g
Soaked mushrooms, 50 g
Ginger, 4 g
Wine, 30 g
Shallots, 10 g
Sugar, 20 g
Salt, 3 g
Peanuts, 800 g
Monosodium glutamate, 3 g
Soup stock, 600 g
Soy sauce, 15 g
Method:
1. Clean and dry the duck. Place the duck on a chopping board and break its bones with a kitchen knife and then marinate it in 10 g of soy sauce, 10 g of wine, and 3 g of salt, for half an hour. Then peel the taro, cut them into diamond-shaped pieces and slice the ginger.
2. Fry the duck for two minutes in peanut oil and take it out. Then put the taro pieces into the wok for three minutes.
3. Leave 50 g of oil in the wok and add 10 g of sugar. Put the soy sauce, wine, soup stock, salt, duck and mushrooms into the wok for 30 minutes after the sugar turns red.
4. Take a big bowl and line it with mushrooms, then put the duck in it and cover the duck with taro pieces, sliced ginger and shallots. Pour the sauce in the wok into the bowl and then cover the bowl. Steam the bowl for 90 minutes.
5. Take the bowl out and pour the sauce in the wok and then add wet starch and monosodium glutamate. Then turn the bowl upside down to leave the duck on a plate and cover it with the mixed sauce.
Food notes:
If there is no betel nut taro available, just replace it with other kinds of taro, and the taste will be just as good.