The strand that binds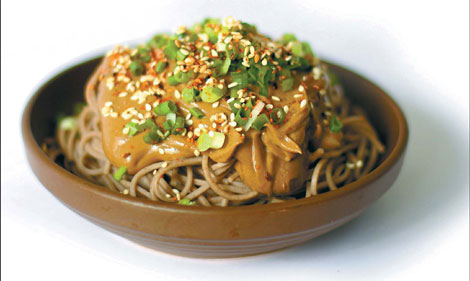 A single strand of noodle is what connects many Chinese hearts. We all have our favorite noodles, no matter which part of the country we come from. Pauline D. Loh looks at some noodle facts.
To many Chinese, noodles are more a staple than rice. In the last 100 years, China has gone through much culinary revolution, but before there were the seven years of plenty, there had been many more years of famine.
In his teens, my husband went through deprivations that neither our two children nor I can ever hope to understand. When he was sent to Inner Mongolia autonomous region from Beijing to farm wheat, potatoes and buckwheat, his entire food ration was often just a bag of wheat flour per month, and perhaps a cup of oil.
He made his own noodles, dumplings and steamed buns. There were none to buy and no money to buy any with. Noodles in the north of the country tend to be hand-cut, rolled out in thin sheets and cut into strips of various widths according to the recipe.
Dough was also finger-pinched into various shapes or shaved into wafer thin flakes.
They were served in savory braised sauces or mixed with an intensely salty, oil-fried soy bean paste accompanied by thinly shredded cucumber and maybe a handful of boiled broad beans or some pickled vegetables.
In the south, noodles were more of a luxury, and eaten more as a snack apart from the main staple, rice.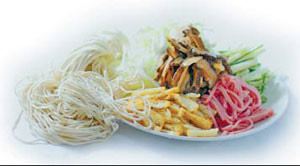 It is simple a matter of eating food at the source, because south of the Yangtze River and right up to the Pearl River delta, rice is grown in both hill and valley. There are also all types of rice noodles here, and a broader repertoire of ingredients to go with the noodles, blessed as they are with proximity to the sea - and seafood.
The Fujianese used prawns and squid from the daily catch to cook a yellow noodle treated with a little alkaline to keep them from spoiling in the tropical heat. And the Cantonese, of course, are famous for their wonton noodles.
A meal of noodles meant different things to different peoples. In the north, it was simply a filling meal to warm a hungry tummy. In the south, the craft of noodle cooking was elevated to art, and sometimes artifice. Visual appeal, aroma and taste are carefully assembled in an enticing presentation that totally seduces the gourmet or gourmand.
Further afield, generations of overseas Chinese also developed their own noodles. Take the Southeast-Asian curry-based laksa, for example. It has now oddly become the most common dish in some Australian food courts.
And as the next wave of the diaspora continues, noodles will likely enjoy an even higher level of popularity worldwide.
Here are some of our family's favorite noodle recipes, a collection that reflects our wanderings in the last few decades.
Recipe | Beijing Lumian (Beijing Braised Noodles)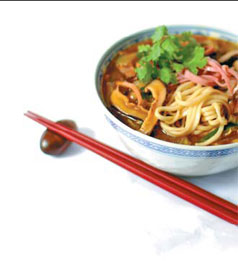 Ingredients (serves 4):
500 g fresh thick noodles
300 g cabbage, shredded
1 small cucumber, cut into juliennes
10 dried shiitake (Chinese) mushrooms, soaked and sliced
100 g ham, sliced
6 tofu puffs, thinly sliced
Coriander leaves, chopped
2 tbsp dark soy sauce or oyster sauce
1 tbsp Chinese black vinegar
1 tbsp corn flour mixed with 1 cup water
1 tbsp sesame oil
Salt and pepper to taste
Method:
1. Heat up a little oil in a deep frying pan and toss the sliced mushrooms. Add the cabbage, ham and tofu puffs and mix well. Add enough water to just cover the ingredients.
2. Measure out sauces, vinegar and add to the pan. Mix the corn flour solution well and slowly add to the sauce, stirring all the time to prevent lumps. Let it simmer to thicken. Season with salt, pepper and a dash of sesame oil.
3. Blanch the noodles in boiling water for 6 minutes and portion into bowls.
4. Ladle sauce over the noodles and garnish with chopped coriander leaves and cucumber to finish.
Food notes:
This is my husband's favorite way of eating noodles. He said his family often had nothing but cabbage and black fungus to add to the sauce, and perhaps a quarter of a carrot. This recipe, by comparison, is the deluxe version.
Recipe | Cantonese wonton noodles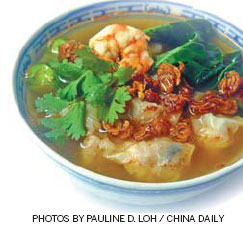 Ingredients (serves 4 to 6):
500 g thin egg noodles, blanched
300 g minced pork
300 g prawns
100 g fresh shiitake mushrooms (or 6-8 dried mushrooms, soaked)
2 water chestnuts, peeled and finely diced
1 egg white
1 tsp each salt, sesame oil, ginger juice
1 tbsp corn flour
500 g pork bones
1 piece dried sole or flatfish, toasted
200 g soy bean sprouts (the large tufts)
Salt to taste
50 wonton wrappers
Green vegetables
Method:
1. Peel prawns and reserve head and shells for stock pot. De-vein and mince. Add to minced pork. Combine minced pork, chopped prawns, water chestnut and diced mushrooms. Add egg white, corn flour and seasoning. Stir mixture vigorously in one direction until it comes together in a sticky ball. Cover and leave aside.
2. Place prawn shells and heads in a lightly oiled pan and sear over high heat. Add enough water to cover and boil for 10 minutes. Drain the stock and discard the shells.
3. In a separate large stock pot, boil 3 liters water and add pork bones, toasted dried sole fish. Skim off any scum that rises and allow stock to simmer steadily. After 30 minutes, add the soy bean sprouts and prawn stock. Continue to simmer until stock is well flavored and reduced to about a third. Turn down heat and keep warm.
4. Wrap wontons by placing a spoonful of filling in one corner. Roll diagonally to just over halfway, then bring opposite corners together and pinch close.