Peking duck is the world's 5th favorite
You either eat to live, or live to eat. I am a member of the latter group, and dieting is usually the last thing on my mind. With so many delicacies and so much to choose from, I cannot possibly pick a "favorite" because, well, they're all my favorites. Thankfully, there's CNNGo.com.
CNNGo.com, a travel website under CNN, has recently published an article titled "World's 50 most delicious foods." Readers voted for their favorite food out of 50 dishes that CNNGo picked from around the world. Massaman curry of Thailand topped the list. Beijing's crispy and juicy Peking duck ranked fifth as the highest ranking Chinese dish. Egg tarts and French toast from Hong Kong, China made 16th and 38th place, respectively. Take a look at the editor's picks of some of the winners on the list.
41. Stinky tofu, Southeast Asia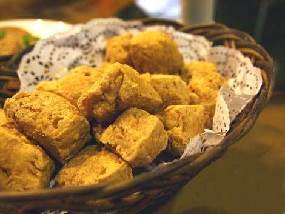 Like durian, the King of Fruits, only those with an acquired palette can truly appreciate stinky tofu. This fermented tofu dish is one of Southeast Asia's most iconic foods, and also has its counterpart in Chinese cuisine. You just either love it or hate it. "It smells stinky but tastes great!" That's what most people who love the dish say.
38. French toast, Hong Kong, China
Hong Kong-style French toast is not the kind you find at your typical Sunday brunch. They are not covered with custard then pan-fried with a little bit of butter. Instead, it's more like a deep-fried peanut butter sandwich soaked in egg batter. What's more, they are served with a generous amount of syrup. It's loaded with tastes, but unfortunately, it's also packed with cholesterol. Eater's discretion is advised.
32. Ankimo, Japan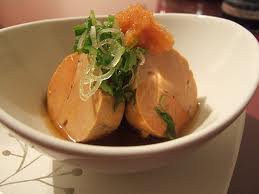 Meet the foie gras of the sea, ankimo. Just like its poultry cousin, ankimo is also made with liver, monkfish liver. It's one of the most prized and rare delicacies of Japan that were often presented to the royal court. The texture is creamy, yet light. Sounds like an oxymoron but it's 100% true. Monkfish may not be around for much longer as they are threatened by unsustainable fishing practices. If you are lucky enough to encounter it, be sure to enjoy, savor, and remember the taste.
28. Pho, Vietnam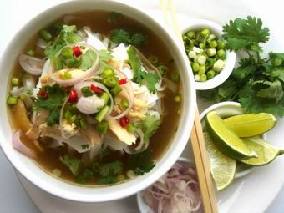 Pho is a staple breakfast (and lunch and dinner) dish in Vietnam, and righteously so. The fragrant and yummy noodle dish is truly a mix between simplicity and elegance. Made with just broth, fresh rice noodles, herbs and a few pieces of meat, pho makes a perfect meal at any time of the day. And FYI, the correct pronunciation for the dish is "fuh," and not "fou."
16. Egg tart, Hong Kong, China
If you've had dim-sum on weekend mornings, you've seen the waiters push these marvelous desserts around on carts. The combination of the crusty pastry and the jiggly filling is best enjoyed fresh and hot right from the oven. They are not too sweet, and are available almost anywhere these days. So, the only problem with these bite-sized desserts is knowing when to stop.
Drum roll! Lights! Get ready for the top 10 countdown of the world's most delicious foods.