Tapping affordable luxury during tough times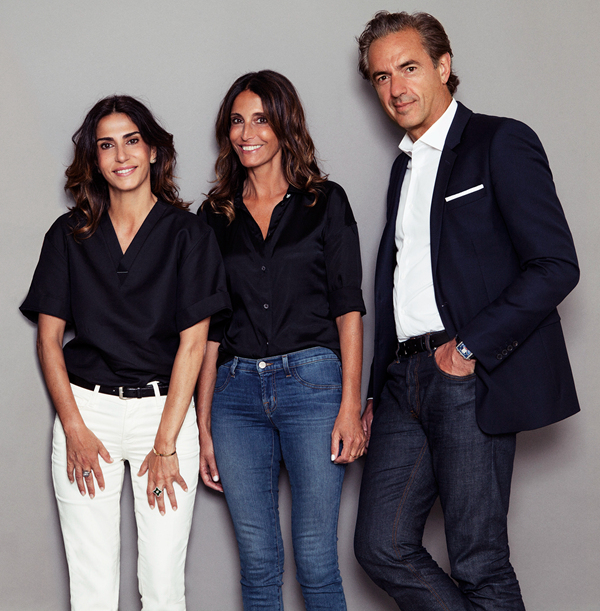 Daniel Lalonde (right), president and CEO of SMCP, with Evelyn Chetrite (center), founder and artistic director of Sandro, and Judith Milgrom, founder and artistic director of Maje. [Photo provided to China Daily]
The fashion industry in general might be having a challenging time, but some brands are thriving thanks to the sweet spot called accessible luxury, where luxury meets affordability.
SMCP, the French company that owns affordable luxury brands Sandro, Maje and Claudie Pierlot, announced its annual results late last month.
The company achieved net sales of 786 million euros($837 million) last year, a 16.4 percent increase year-on-year, beating the sluggish performance of the industry overall.
In particular, the brand has seen strong growth in China, where accessible fashion increasingly appeals to the burgeoning middle class.
Greater China makes up about 12 percent of the company's total sales. It is also the fastest growing area for the company.
"We are just at the beginning of our story in this region," Daniel Lalonde, president and CEO of SMCP, says in a phone interview after the results.
Lalonde attributes part of the growth to the desirability of the collections developed by its creative teams.
"It has been our big strength to capture that Parisian chic and provide that experience to all our customers. Our business model is unique. We blend luxury and fast fashion, which is very relevant to our consumers," he says.
The company is now developing accessories, including handbags and leather goods, which grew by 41 percent last year.
It is also developing its e-commerce business, which now makes up about 10 percent of the total sales.
The Shandong Ruyi Group, a major Chinese textile producer, bought an 80 percent stake in the company for 1.3 billion euros last year, Reuters reports.
While China has always been one of the priority markets for the company, it has now "slightly accelerated its growth" in the region as the Chinese partner provides strategic advice on the country and the region, says Lalonde.
With more than 1,200 stores in 36 countries by the end of 2016, the company is going to add 100 to 125 new stores this year.
China will take 40 percent of the new store growth, followed by Italy, Spain, Germany, the United Kingdom and the United States, says Lalonde.
"If you look at it per brand, we have fewer stores than the luxury brands. That's where we see tremendous potential," he says.
With a presence in 13 Chinese cities, the brand is going to expand to 20 in three years, he adds.
Meanwhile, the company has opened online stores for Sandro and Maje on Tmall, a major Chinese online marketplace.
And Sandro Homme and Claudie Pierlot will follow on Tmall this year.
SMCP will also develop its own e-commerce site in China this year.