Brand grows along with business lifestyle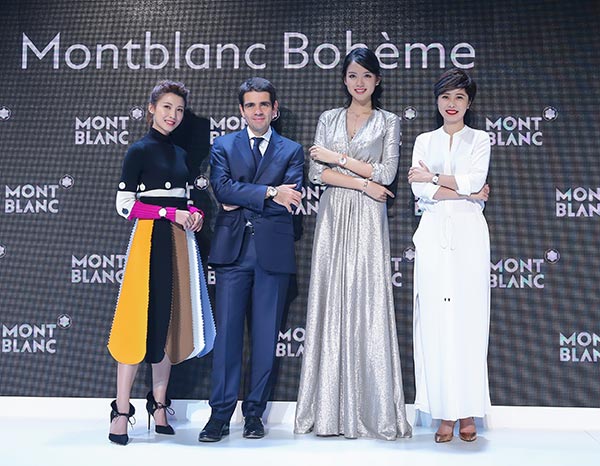 (From left to right) Actress Ou Xuan, Montblanc CEO Jerome Lambert, supermodel Zhang Zilin and director Xue Xiaolu at the Beijing launch of Boheme, Montblanc's line of watches. [Photo provided to China Daily]
The brand Montblanc has been known in China for its writing tools and leather goods. But, the German company also produces jewelry, fragrances, eyewear and luxury watches.
And since Jerome Lambert became its CEO in 2013, he has given the brand a new orientation. The accessories now have a stylish touch and the fountain pens come in more colors.
Lambert has a great passion for watches made in Switzerland, since he worked with some of the best watch companies there for more than 25 years.
In September, Lambert visited Beijing to launch watches from Montblanc's popular line Boheme. Chinese film director Xue Xiaolu, supermodel Zhang Zilin and actress Ou Xuan were chosen as spokespeople for the line, to represent the self-confidence, style and glamor that the watch line portrays.
"The Boheme collection for women is highly appreciated in Asia. The market is very active in China. It (the collection) is for the new generation of Chinese women who shoulder a lot of responsibility-ranging from family to career," Lambert says.
In November, the brand launched a new ultra-light model in Shenzhen, in South China's Guangdong province.
Considered one of the lightest mechanical timepieces in the world, the TimeWalker Pythagore Ultra-Light Concept combines high-tech material and top watch-making craftsmanship. It weighs only 14.88 grams without the watchband.
In Shenzhen, they also held a traveling exhibition, celebrating the 110th anniversary of Montblanc with the theme "bring on the next game, tribute to pioneering spirit". The exhibition traced the brand's history since its founding in 1906 and shed light on its pioneering spirit that has been driving innovation to this day.
Shifting the focus to consumption patterns, Julien Renard, president of Montblanc Asia-Pacific, who was at the Shenzhen watch launch, says that while earlier, Chinese consumers used to buy the brand's products as a status symbol, they now buy the products to experience the thrill of using them.
"They have become more knowledgeable in the last five years, and they now attach a lot of importance to the history and heritage of the brand," he says.
"This watch (TimeWalker) is for niche consumers. It is for collectors who understand fine watch-making," he says.
"China is a key market, changing a lot, expanding a lot. So it is important for me to visit often to understand it," Lambert says.
Meanwhile, he says that though China's luxury industry is experiencing a slowdown due to the ongoing campaign against extravagance and an economic slowdown, Montblanc is growing here.
Montblanc is a business lifestyle brand. As the business life develops in China, Montblanc's business develops.
"We now have stores in more than 20 cities. We have good distribution partners and do good local communication," he says.
Lambert also says the brand will develop a digital dimension for its distribution and communication as well as "work by city".
"China is not only about Beijing and Shanghai. We are developing a market program adapted to different regions, and sometimes, even by city," he says.
He also emphasizes that Montblanc will improve its service in its China stores to attract more local customers.
Now in China, he says, any problem with the leather can be resolved in 10 days, and for watches it is three weeks.