Cashmere line hosts exhibit for seasonal collection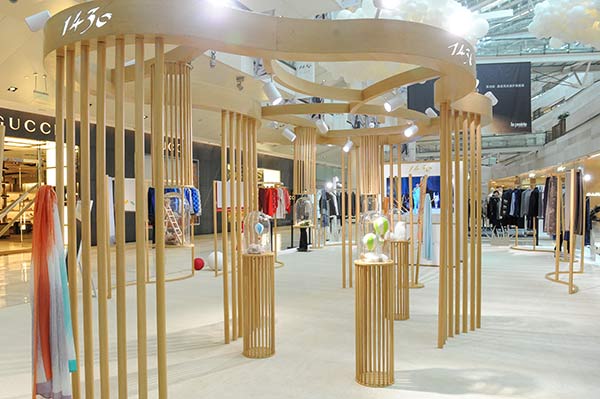 China's cashmere brand 1436 is exhibiting its 2016/17 autumn and winter collection and the original delicacy fiber in Beijing. [Photo provided to China Daily]
China's cashmere brand 1436 is exhibiting its 2016/17 autumn and winter collection and the original delicacy fiber at Seasons Place, the luxury shopping mall in Beijing's west district.
The space is designed and decorated like the sweeping plains of Inner Mongolia, where the goats live that produce the cashmere. The collection, designed by its creative director Graeme Black from Scotland, features light spring colors of soft blue, pink and white in addition to the camel, beige and brown that are typical for winter.
The label 1436 is under the company Erdos, which was founded 37 years ago. Erdos means "Palace of Tents", and the company produces about one-third of the world's cashmere. It formerly supplied Hermes, Burberry and Loro Piana. The company's technicians have continued to develop the fiber, now producing what they describe as the best cashmere yarn, less than 14.5 microns in diameter yet still robust.
The fiber's key stats -- 14.5 microns thick and 36 mm long --inspired the name of the new label: 1436. The exhibition continues through Nov 20.