Entrepreneur turns Chinese culture into eye-popping couture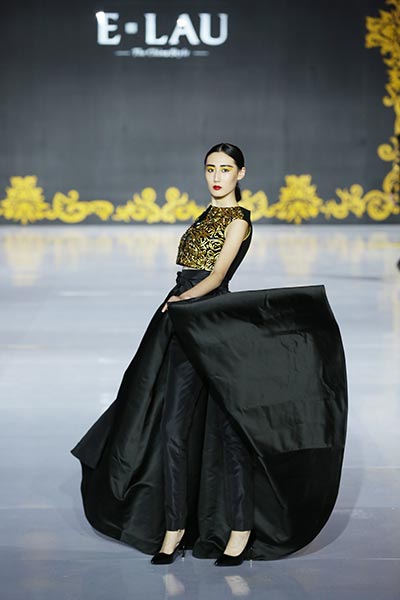 Designer Liu Yatong's collection is a tribute to Chinese culture. [Photo provided to China Daily]
With all the experience and networks he had gathered at Internet companies, Liu founded his own talent agency, managing singers and actresses alike.
He launched his high-end line E.Lau, which spotlights Beijing embroidery, in 2013, when China-inspired fashion was just starting to pick up momentum.
What he lacks in fashion-design expertise, Liu makes up with an acute sense of business and a powerful celebrity network.
"In the end, it's all about being good with people and integrating everything together," he says.
His first collection inspired by blue-and-white porcelain was worn by dozens of celebrities and soon made a name for Liu.
Liu then expanded to more affordable fashion in 2014 with the launch of Tongrentang, which uses digitalized Chinese prints.
Liu is not the first one to capitalize on China-inspired fashion. There are established predecessors like NE.Tiger and Guo Pei.
"For me, they are not young enough. Each is targeted at a special age group for special occasions. But I want to create something everybody can wear in their daily life," Liu says.
Tongrentang is now sold in 50 multi-brand stores in 25 cities. Liu says it sells especially well in northern China, where "the Chinese culture is more deeply rooted".
The brand is going to open eight independent stores in Beijing in November and more in northern China later. Liu also plans to open franchise stores and launch online shops in the near future.