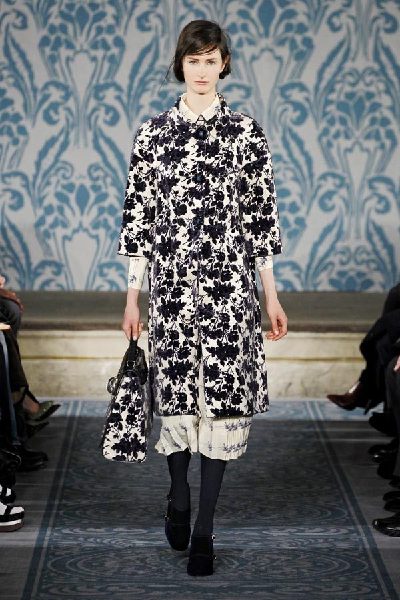 The "Dayton" coat can be worn to work and for special occasions. Photo provided to China Daily
Sitting between the luxury market and High Street, fashion label Tory Burch has found itself in the enviable position of taking the best of both worlds. Kitty Go reports in Hong Kong.
Many fashion brands are struggling to find that quality that will make them stand out in what has become a monotonous and crowded retail environment. Some look to heritage, others to craftsmanship. Some feature exotic locations with every campaign. But amid all these assaults on our sense of style, the US sportswear brand and its founder and designer, Tory Burch, stand out with both fashion and business sense. The privately held company started in 2004 with the Tory tunic, a top inspired by a $6 French flea-market smock. The business is now worth an estimated $3.5 billion. With a stellar performance and dominant market share in fewer than 10 years, many older luxury goods companies are probably beginning to wonder whether age does matter.
Although Tory Burch is not as expensive as a true luxury brand, it is not as inexpensive as a High Street or fast-fashion brand, either. Therein lies the brand's strong position. At its prices, wealthier women can choose to wear Tory Burch every day while others can aspire to wear them for special occasions.
The velvet floral navy and cream jacquard grouping for fall 2013-14 is a great example and happens to be one of Burch's favorites. The long "Dayton" coat from this group can be worn to work by a managing director over her suit, yet her assistant could wear the very same thing over a black dress for an evening out. The consistently best selling Reva flat in this season's cracked metallic leather can be worn by day with jeans and a trench or at night with satin trousers and a silk bow blouse, one of Burch's must-haves in every working woman's wardrobe.
The Tory Burch style, which is inextricably linked to its founder's taste and lifestyle, is mostly inspired by the personal style of Burch's parents, Buddy and Reva. Travel, art, music and culture are also strong influences but not the only ones.