Fashion that makes public space private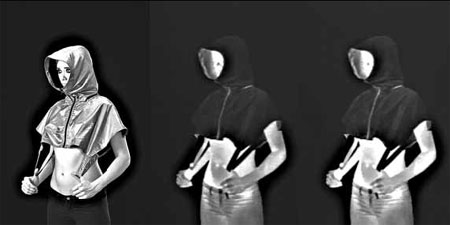 High-tech fashion has not yet taken off. A stealth-wear hoodie made with metallized fabric is intended to reduce the wearer's thermal footprint. Adam Harvey / ahprojects.com
Adam Harvey, a design professor at the School of Visual Arts in New York and an early creator of "stealth wear," acknowledges that the idea of clothing and accessories designed to protect the wearer from detection and surveillance sounds like something out of a William Gibson novel.
But flying surveillance cameras, known as drones, are increasingly in the news. So are advances in facial-recognition technology. And wearable devices like Google Glass - which can be used to take photographs and upload them to the Internet within seconds - are adding to the fervor.
"The science-fiction part has become a reality," Mr. Harvey said, "and there's a growing need for products that offer privacy."
Mr. Harvey exhibited a number of his stealth-wear designs in an art show this year in London. His work includes hoodies and cloaks that use reflective, metallic fabric - like the kind used in protective gear for firefighters - that he has repurposed to reduce a person's thermal footprint. In theory, this limits one's visibility to aerial surveillance vehicles employing heat-imaging cameras to track people on the ground.
He also developed a purse with extra-bright LEDs that can be activated when someone is taking unwanted pictures; the effect is to reduce an intrusive photograph to a blur. He created a guide for hairstyling and makeup application that might keep a camera from recognizing the person. The technique is called CV Dazzle - a riff on "computer vision" and "dazzle," a type of camouflage used during World War II to make it hard to detect the size and shape of warships.
Mr. Harvey isn't the only one working on such products. The National Institute of Informatics in Japan has developed a visor outfitted with LEDs whose light isn't visible to the wearer - but that would blind some camera sensors and blur the details of a wearer's nose and eyes more effectively than sunglasses.
Todd Blatt, a mechanical engineer in New York, is working on a lens-cap accessory for people who don't want to be recorded while talking with someone who is wearing Google Glass. Instead of asking that the computer glasses be removed entirely, they could instead hand the wearer the lens covering and no taping or photographing would occur.
Stealth wear, Mr. Harvey said, is an "updated way of thinking about making your clothes more resistant to your environment and adapting them to protect you."
These designers face a challenge: although technology has inspired new fabrics and materials, high-tech fashion of any kind has yet to really take off.
Even so, Jan Chipchase, executive creative director of global insights at Frog Design, says he sees potential. He described prototypes as "provocations," saying they raise "issues that are impacting our cities and public spaces that need more discussion and debate."
Most of Mr. Harvey's designs are still concepts. But he said he hoped that awareness of his designs might "empower you to control your identity a little more."