Faces of fashion and haute couture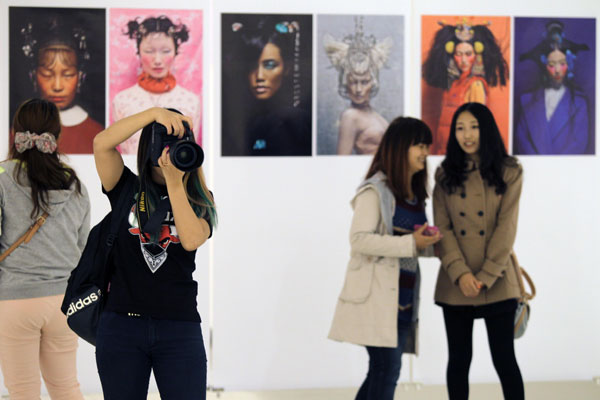 The exhibition Soul i-D features innovative photography and typography in the fashion industry. Zhu Xingxin / China Daily
The British magazine i-D, recently worked with Asian fashion collective Joyce to present the exhibition Soul i-D in Beijing.
Founded by designer and former Vogue art director Terry Jones in 1980, every i-D cover features a smiling model with one eye closed that looks like the letter "i D" when turned 90 degrees.
Fan Bingbing was the first Chinese cover girl in its September issue, which included articles on China's fashion.
Known for its innovative photography and typography, the i-D exhibition features big names from the fashion industry, including Alexander McQueen, Yohji Yamamoto, Vivienne Westwood and Nick Knight.
The inspiration for the exhibition came from Terry Jones' wife, Tricia, who asked: "What is priceless?" "What do you want to pass on to the next generation?"
Audiences can find the answer through photos, notes, paintings and the notebooks of A-list artists.
David LaChapelle, the American artist and photographer known for his hyper-realistic aesthetic, offers Beyond Price, featuring a naked man jumping over straw in the countryside.
The sharp contrast between crystal blue skies and brown straw gives the audience a shock and provides LaChapelle's answer to "what is priceless": Loving nature, and doing as he pleases.
China's celebrated photographer Chen Man has also several portraits in the exhibition.
According to Jones, Chen's works are diverse, but all deliver her key message: There are many different faces in society, and there are many different kinds of beauty.
"And that is what we are trying to celebrate," Jones says.
"Love and beauty is cross-language and cross-soul. I think within i-D, we always see ourselves like one world without literary boundaries. A lot of ideas should be inside," says Jones, who showed up for the opening ceremony of the exhibition.
He believes the logo "i-D" informs people of the publisher's spirit: It basically refers to "information design, instant design and infantile disorder", which means a good design should be informative, quick and inspiring.
At the exhibition it has another meaning too, identity, and this will be obvious to all those who see it for themselves.
gantian@chinadaily.com.cn