Perfumes add accent to cocktails
Scents are starting to show up in martinis, margaritas and much fancier concoctions, thanks in large part to Mandy Aftel, a former psychotherapist who now makes edible and potable perfumes.
Related readings:


 Touches of Finland


 Chinese women are muses for fashion guru


 Style of China


 Queen of Jeans
Her vials of essences sit behind the bars at high-profile restaurants around the United States, as well as at New York City cocktail temples like PDT, Pegu Club and Booker. Many bartenders believe the scents add one more dimension to the multisensory experience of a good drink.
Even purist New York mixologists like Audrey Saunders and Jim Meehan are pouring Ms. Aftel's products into their potions. After all, the powerful aromas and tastes are drawn from the botanical world.
Ms. Aftel, 64, lives in Berkeley, California, with a collection of 600 scents culled from flowers, spices, grasses, barks and resins. These expensive distillations, which she sources from around the world, are the sensitive components in her line of natural perfumes, Aftelier.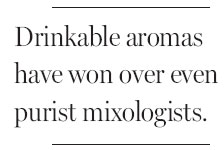 Ms. Aftel said she has never experimented with the artificial ingredients that dominate the scent and flavor industries.
"It is the synthetic that stinks up the elevator," she said. "I am not interested in scents that have that kind of staying power. A natural perfume costs more and disappears quickly, but while it lasts it's extremely beautiful."
She began using her scents as accents to food after being introduced to Daniel Patterson, the chef and owner of Coi restaurant in San Francisco. Together they wrote the 2004 cookbook "Aroma: The Magic of Essential Oils in Foods and Fragrance."
And when other chefs, including Dan Barber and Jose Andres, showed interest, she assembled a collection of 45 edible potions, 6 of which are now marketed as Aftelier Chef's Essences by Williams-Sonoma, an American retailer of high-end kitchenware. They are $17 to $19 each, in five-milliliter bottles (about 150 drops).
The leap to the cocktail bar came by chance. Ms. Saunders, who did much to start the current cocktail culture, came across "Aroma," then sought out Ms. Aftel's earlier book "Essence and Alchemy."
"I knew this could help me take the tinctures I made for Pegu Club to the next level," Ms. Saunders said. She has trained twice with Ms. Aftel.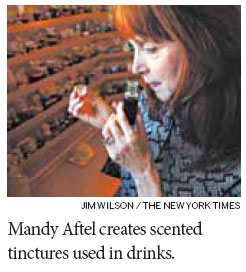 Ms. Saunders drops essences onto sugar cubes and drips them into atomizers, which allows her to spray the empty bowl of the glass or the cocktail itself.
But when using scents for flavor, why use a distillation of something as common as black pepper or ginger, when you can reach for a grinder or grater?
"The essences reveal a floral back note," Ms. Aftel explained, "which you don't get with the original material."
Mr. Meehan, the owner of PDT in New York's East Village neighborhood, includes the essences in recipes in his "PDT Cocktail Book." He accents his Gold Coast cocktail with the Aftelier Madagascar black pepper.
"These essences are intense," he said. "So I dilute 10 drops into a half-ounce of neutral grain spirit."
Ms. Aftel said it did not take much for an essence to alter a drink. "On the skin the natural scents disappear quickly," she said, "but in food or drink, one drop can also make a drink or a dish pop. It's like magic."
The New York Times