Dolling up her designs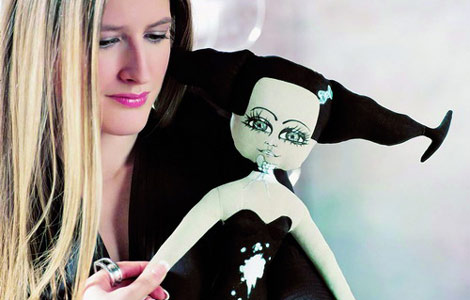 Caroline Deleens says she wants to design for art, not only for money. [Photo/China Daily]
Trailblazing French designer follows heart to Chinese capital, starts own label
When Caroline Deleens followed her father to Beijing for his posting with a large French company in 1995, she immediately fell for the capital's alluring cultural mix of old and new. "We could enjoy a local restaurant in a traditional hutong alleyway, and meanwhile appreciate the modern buildings coming up across the street. That was simply amazing," she says. Those were not merely the feelings of a Western tourist enraptured by her first trip to China. Deleens' reaction came from a deep familiarity with a cultural landscape of art and style needed for creativity to flourish. The Frenchwoman, now 35, decided this was the right place to be inspired, helping her become one of the first Westerners to start a fashion brand in China.
Deleens launched her label Mushi, which stands for "model from the West", in 2001. Her designs have won over many Chinese fans, including celebrities such as Na Ying, Li Bingbing and Yu Nan.
"Mushi's clothes boast ethnic features and ooze culture and fashion," says Miao Tian, a businesswoman who has known Mushi for the past decade.
Wearing a self-designed, delicate gray cashmere coat, a bun casually coiled at the back of her head and deep red lip-gloss, Deleens drew a lot of glances when she entered a restaurant in Beijing's historic Houhai entertainment and dining area.
Building on the niche she has carved out for herself, Deleens is now working to ensure the exclusiveness of her designs.
"I want every design to be a special piece of artwork, which can help express the client's inner world and add value to her, making her different in an elegant and creative way," she says.
Deleens was born into an artistic family in Paris and introduced to the world of fashion by two grandmothers who worked in the industry tailoring and producing furs. Her grandfather and mother are both painters.
Through keen observation, she started designing and creating at a young age.
"My grandmothers have good taste and are sensitive to beauty. Under their influence, I started drawing various kinds of beautiful clothes since childhood and would imagine how I should dress different people," Deleens says.
In 1997, she went back to France and majored in women's luxury products in the Parisian fashion school Esmod. Three years later, she decided to fulfill her fashion dream in her beloved Chinese city.
"At that time, Paris was a fashion capital with lots of fashion designers and fierce competition. But Beijing was not so modern and young designers could have more opportunities," she says.
Deleens opened her first store in Kerry Centre of Chaoyang district in 2002, targeting people such as businesswomen, singers and actors with prices ranging from 800 yuan ($126) to 6,000 yuan.
She also made stylish and elegant uniforms for luxury hotels, such as the Peninsula Hotels in Shanghai and Hong Kong.
To better promote her business, she closed the Kerry Centre store in 2007 and opened a larger one inside the LG Twin Tower, which helped her attract many more clients. But she had to close that store last year because of building plans.
Still, the ups and downs of the business did not bother Deleens much. For her, a love of fashion came first.
"I want to design for art, not only for money. Some people had advised me not to choose luxury products as my major, saying it will be difficult to make big money. But I think interest comes first," she says.
When Deleens first started her business in Beijing, it took her some time to attract Chinese customers. Back then, Beijing had no big shopping malls or easily identifiable ideas about modern fashion, and she had no idea what Chinese women liked.
"Some of my designs, like backless and sleeveless costumes, were not well accepted. So I made a lot of designs and learned gradually what interested them," she says.
But her passion for fashion drove her to understand Chinese culture better. She added Chinese elements into her designs and developed a style that blends "Asian refinement and avant-garde Western audacity".
Deleens adopts and makes skillful changes to the classic qipao women's dress and the Chinese tunic suit. She also adds calligraphy, traditional paintings and architectural elements into her design.
Miao, the businesswoman, recalls that Deleens once used the music of Peking Opera as the background music for her fashion show.
"Caroline seeks perfection in everything she does and she will even pick flowers and gifts for the fashion show herself," her mother Monique Deleens says. "All her designs are like her own baby, in which you can see Caroline herself."
Since 2003, Deleens has also made a series of Mushi Wawa dolls, and each Mushi collection has been perfectly recreated in miniature to dress up the characters.
"Every doll is unique, having Deleens' favorite hairstyle and a hand-painted face by her mother. What is interesting is that the dolls' eyes drawn by her mother sometimes look like Caroline's, blue and wide," says Wang Jing, a close friend of the family.
For Deleens, "bringing up" Mushi is an adventure in the fashion world itself.
"Designing is a way to express and emancipate oneself, and also a beautiful form of travel for the mind," she says. Everything in life can inspire her, be it a painting, a movie or just someone she talks to, Deleens says.
Yann Romain, a close friend and a photographer of Mushi's products, describes working with her as being "a great joy". "Caroline has been doing as she wishes," he says.
Having grown up in Beijing, Deleens has also found something missing in the capital - most of the clothes in the shopping malls are not creative, she says.
"I have not seen any creativity in the fashion world for the past decade. They just repeat the same old fashion trends to make money. If there's no tag, we cannot tell the difference among brands," Deleens says.
Many buyers similarly do not know what they want, she says.
"When I first started Mushi, people would ask us to make clothes, special and different. But now, they just take what the shopping malls offer or ask us to make something similar with world-famous brands, regardless of whether they are fit for them or not," she says.
Deleens herself used to make dozens of clothes out of one design, but has stopped that kind of "repetitive production". She wants to help her customers better express themselves by tailoring unique designs for them at reasonable and acceptable prices.
For now, her most important project is preparing for her most exclusive creation, a wedding dress that will debut this April at her own wedding - a fitting start for herself and her latest "fashion adventure".
chenyingqun@chinadaily.com.cn