'Silk Road Landscape Map' donated to the Palace Museum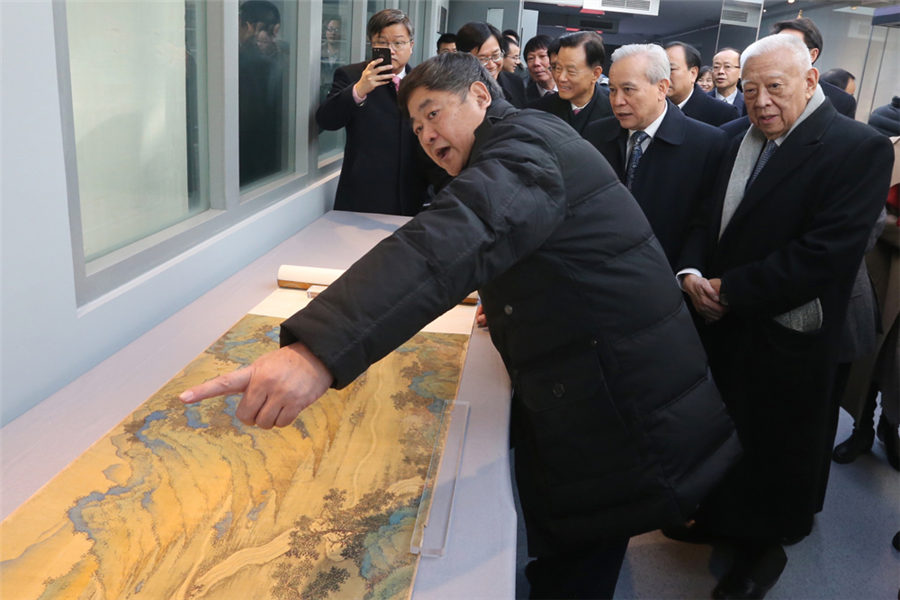 Tung Chee-hwa (first right), vice chairman of the CPPCC National Committee, and Shan Jixiang (center), director of the National Palace Museum, viewed the Silk Road Landscape Map at the donation ceremony, Nov 30, 2017. [Photo by Jiang Dong/China Daily]
The Palace Museum received the painting Silk Road Landscape Map, which was donated by Xu Rongmao, founder and chairman of Hong Kong Shimao Group, during a ceremony in the Palace Museum Nov 30. Xu bought the painting for $20 million from a Japanese collector.
The more than 30-meter-long Silk Road Landscape Map, which was created in the late Ming Dynasty (1368-1644), depicts a vast landscape from Jiayuguan Pass in Northwest China's Gansu province to Tianfang city, now the holy city of Mecca in Saudi Arabia.
This painting is filled with a large amount of geographical information. It serves as proof that China already had a clear understanding of the world geography, especially along the Silk Road, before Western maps were introduced to China.