Exhibit showcases cultural landscape of 20th century China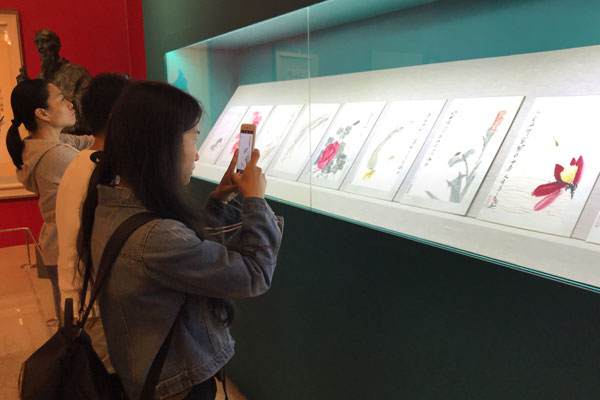 Visitors take photos of the painting album Birds, Flowers and Insects by Qi Baishi at the National Museum of China in Beijing, Sept 28. [Photo by Li Wenrui/chinadaily.com.cn]
To welcome the upcoming 19th National Congress of the Communist Party of China and demonstrate the essence of Chinese culture, the National Museum of China recently showcased the works of 43 masters of Chinese literature and art from the last century.
Titled Century Masters: The Exhibition of the Works of Forty-Three Grand Masters in Literature and Arts, the event features over 90 rare items including paintings, calligraphies, publications, manuscripts and photos.
Ranging from novelists Lu Xun and Ba Jin to painters Qi Baishi and Zhang Daqian, every master from this iconic group has made significant contributions to modern Chinese culture.
Most of them were born in social upheavals, grew up among the people and bore the wear and tear of the trying age, but their talent, resilience and perfectionism for arts have created the art treasures of China.
Meanwhile, the National Museum also premiered Century Masters, a 110-episode biographic documentary on those cultural figures on Sept 16.
The first two seasons of the documentary were broadcast on China Central Television, Beijing Television and over 40 other TV stations at home and abroad.
The exhibition will run through Sept 29 at the National Museum in Beijing, then tour in Shanghai, Shandong province, and Guangdong province.