Mud men tell stories of NE China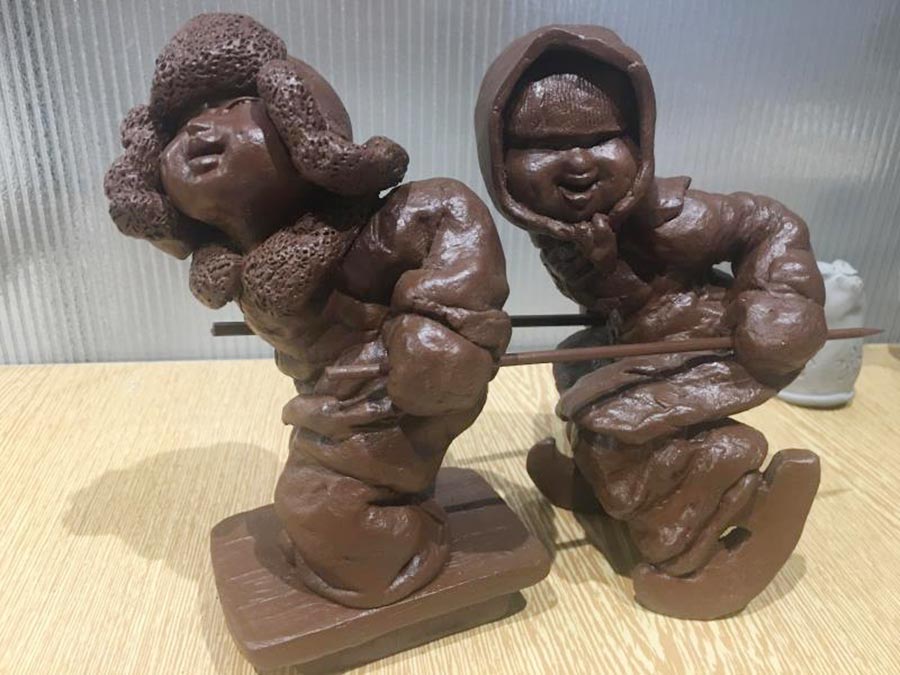 Mud figurines by artist Zhang Jindong. [Photo by Han Junhong/China Daily]
On a plaque in a small store in Changchun, capital of Jilin province, these words are written: "Mud figurine Zhang in NE China".
Figurines made of mud in all kinds of postures are displayed in the store. Some figurines are about winter fishing and some show scenes of NE China Spring Festival celebrations.
The owner of the store is Zhang Jindong, a third-generation inheritor of the art of making traditional Chinese mud men.
Zhang first got to know about creating mud men when he was in primary school. At that time, he used to imitate his parents' and grandparents' mud figures and learned some drawing skills as well.
He devoted himself to creating mud men with local features in NE China after his retirement. He bases them on history books and has drawn many others to making vivid mud figures.
Zhang has also made some interesting mud pieces illustrating young people's lives in modern times, such as girls taking selfies and people gathering in KTV rooms.
Zhang mud figures are made from mature yellow mud which is produced by drying, grinding and braising. Figures made by such mud won't crack for quite a long time after they're completed.
No color is used in Zhang's mud men.
"My mud figures are made with crude mud which shows the idea of protecting the ecology," Zhang said.
Zhang has two daughters, both of whom are masters in making mud figures, and their work, it could be said, is even better than Zhang's.
Mud figurine Zhang refers to a mud-men maker whose family name was "Zhang" about 180 years ago.
Zhang was inspired by many art forms -- operas, paintings and wood block drawings -- and his striking mud men were popular among people. Later, all such craftsmanship was named after Master Zhang.