Girl's dedication to Peking Opera art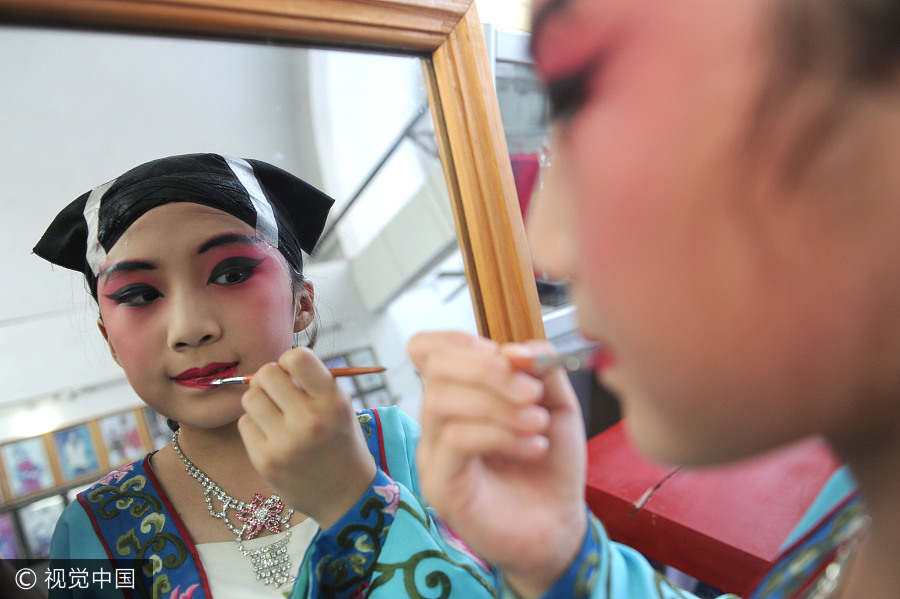 Zhao Zhiting applies her makeup in Tianjiaan district, Huainan city, Anhui province, on Aug 16. [Photo/VCG]
Zhao Zhiting, a primary school student in her fifth grade, is set to study Peking Opera at the Middle School Affiliated to The National Academy of Chinese Theatre Arts in September, after being recognized for her six-year-long dedication to studying Peking Opera.
Zhao, born in 2005 and from the Huainan city of Anhui province, joined a Peking Opera troupe in 2010, when she was just five years old, and gradually became enthusiastic about the performance art, especially when she played the role of wudan – a female character with martial skills – as time went on.
Zhao said the role of wudan was quite challenging, as she had to learn acrobatic fighting and performance skills. However, she was determined to be a good wudan actor and has dedicated her energy in training herself while making sure she completes all of her learning tasks at school.
No matter how bad the weather is, Zhao has never missed a Peking Opera class. She said she believes by continuously practicing the basic skills of Peking Opera, she will become a well-known performer and better inherit the Peking Opera art.