Culture and travel experience center opens in Beijing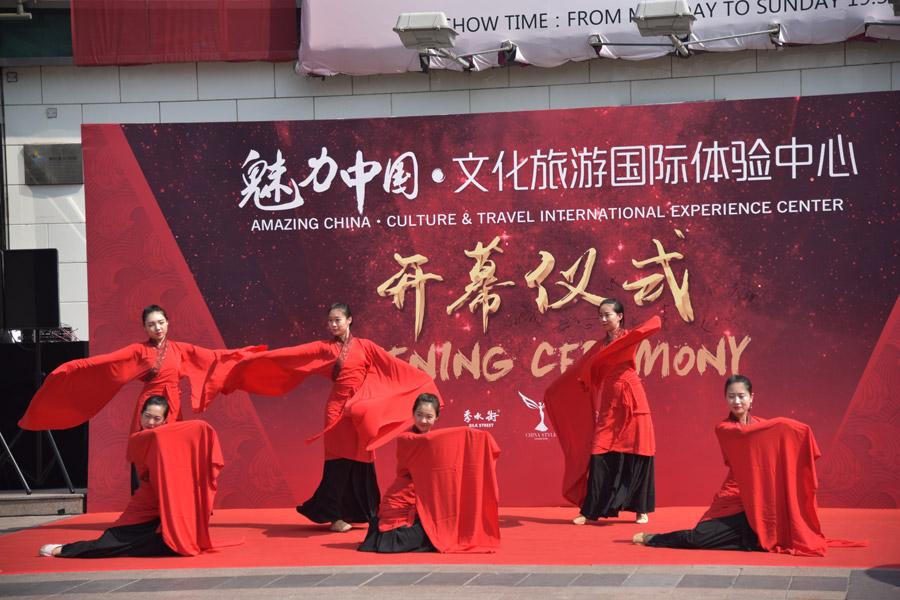 Female artists perform the traditional dance of the Western Han Dynasty (206 BC- AD 24) at the Silk Street on July 29 in Beijing. [Photo by Zhang Xingjian/chinadaily.com.cn]
Silk Street, a shopping center in Chaoyang district, Beijing, is a must-see for international tourists.
Now, in addition to a shopping spree, foreign tourists can also get a touch of traditional Chinese culture thanks to the new culture and travel experience center that opened on July 30.
Organized by Beijing Jinshubiao Tourism Development Co., the center is titled "Amazing China".
According to the CEO Zhang Jinqiang, this kind of center aims to help foreign people get a closer look at Chinese fine culture and transform Silk Street into the one-stop Chinese culture and tourism destination.
"It has been 10 years since China started to develop inbound tourism. During the past decade, tremendous changes have taken place in the industry. Tourists are not contented with going around the city and seeing some beautiful scenic areas. Instead, they hope to have a deep touch of the city.
"For example, they want to interact with local people and experience the daily life of them. Also, they are very interested in knowing Chinese unique culture and appreciate Chinese chic. That's the reason why 'Amazing China' was born," Zhang added.
At the center, three parts have been set up for visitors. Chinese-style fashion shows will be held regularly. Foreign people can wear Chinese traditional clothes and catwalk on the stage. The one-stop cultural experience pavilion has been established for people to learn Chinese art such as calligraphy, poetry and painting. The last section is an exhibition and store of cultural and creative products, a place to find traditional Chinese souvenirs.