Exhibition focuses on the 'xieyi' school of oil painting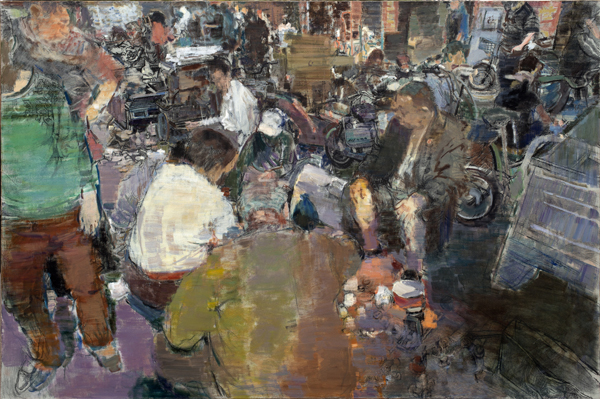 Antique Market, by Zhangchun Dabao. [Photo provided to China Daily]
Chinese artists have sought to blend a Chinese temperament into their oil paintings since the genre arrived in the country a century ago.
They have tried to develop a distinctive style that reflects Chinese aesthetics. And one of the approaches they have taken is the freehand style of xieyi, which literally means drawing the spirits.
Inheritance of Cultural Spirit, an ongoing exhibition at the National Art Museum of China, looks at various attempts by painters to develop the xieyi style.
On show are more than 120 paintings by artists from across the country.
The exhibition is staged by the Beijing-based Research Institute of Contemporary Chinese Xieyi Oil Painting, which was established in November.
The concept of "xieyi oil painting" was devised by painter and educator Luo Gongliu (1916-2004) in the late 1950s.
Luo, one of the founders of the Central Academy of Fine Arts, was sent to study of oil painting at the I. Repin St. Petersburg State Academy of Painting, Sculpture and Architecture from 1955 to '58. There, he realized that Chinese painters had to ditch their rigid technical doctrines about oil painting and blaze a trail of their own by returning to their cultural roots.
Recounting Luo's words, Dai Shihe, 68, a retired professor of the Central Academy of Fine Arts, whose paintings are also on show at the exhibition, says: "He (Luo) said that, as he gained more understanding of oil painting, he felt lost. He said it felt like that he had Western cuisine every day that he wanted Chinese porridge."
Luo then returned to Beijing to found the xieyi oil painting school, going beyond the classic ink-and-brush tradition.
In xieyi, painters are asked to go beyond the physical details of the objects.