Art at your fingertips in museums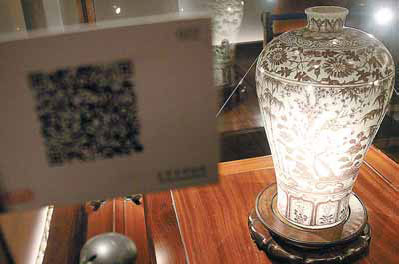 Audiences can learn more than 40 first-class heritage pieces in Nanjing Municipal Museum, by scanning two-dimensional codes with smartphones. Dong Jinlin / for China Daily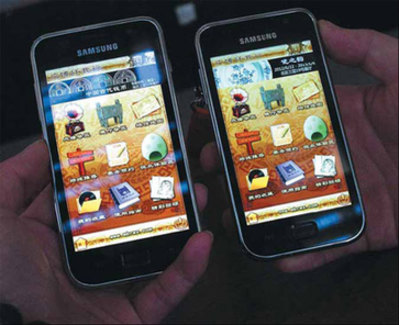 Two visitors use the National Museum of China's smart phone app to tour the museum. Jiang Dong / China Daily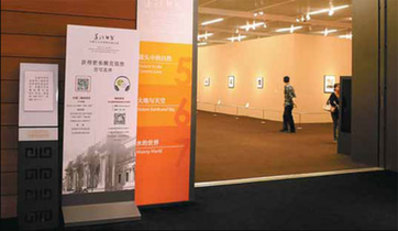 Two-dimension codes and Weixin accounts can easily be found and used in the National Museum of China. Provided to China Daily
A mobile phone and an app will allow visitors to see famous works in a new modern light. Liu Xiangrui reports.
Do you still feel lost before a sea of exhibits with only simple tags to read, in small print, in museums? Fear not, help is at hand.
All you need is a smartphone with an app capable of reading two-dimensional codes.
Recent visitors to the National Museum of China have been busy getting background information by using the codes. With a simple scan, they get a detailed explanation of the exhibit, either in script or audio form.
The service is receiving a warm reception.
In an exhibition staged from February to May Earth, Sea, and Sky: Nature in Western Art - Masterpieces from the Metropolitan Museum, more than 410,000 scans were conducted, according to the museum.
Van Gogh's Cypress collected more than 17,000 scans, making it the most popular of the exhibited pieces.
In fact, the two-dimensional code for mobile phones is just one of the digital tools employed by the National Museum of China.
The rapid development of digital and intelligent technologies is changing our lives.
"This brings about a whole new viewing experience for our audiences," says Huang Chen, head of the museum's public education department.
A scan of the specific code will link the viewers to a related Internet website where they can immediately get the exhibit's introductory information in multimedia forms.
"By saving the website, we can review the information after we leave the museum; we can also share it with friends on social network platforms like Sina Weibo or Weixin with a click," says Wu Li, a frequent museum visitor from Beijing.