Top 10 cultural relics from Haihunhou tomb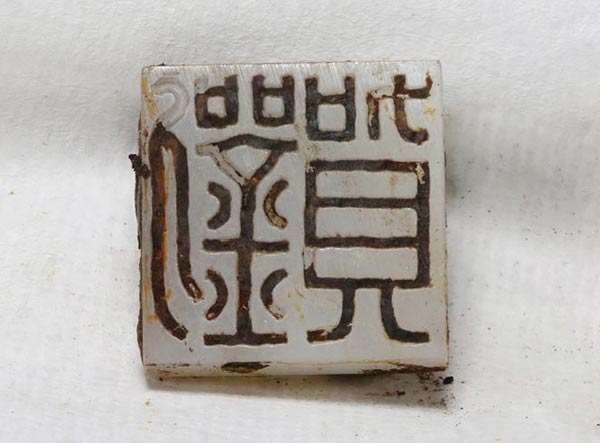 The jade seal that belonged to Liu He. [Photo/Xinhua]
The top 10 cultural relics of Haihunhou ruins in Nanchang city were revealed recently, with Emperor Liu He's jade seal, chime and gold wares being selected.
The 2,000-year-old tomb of Haihunhou (the Marquis of Haihun), is the most complete Western Han Dynasty (206 BC - 25 AD) cemetery ever found.
The owner of the main tomb, Liu He, was the grandson of Emperor Wu. The emperor was the greatest ruler of the Han Dynasty, which was one of the most prosperous periods in China's history. Liu was given the title "Haihunhou" (Marquis of Haihun) after he was deposed as emperor after only 27 days, dethroned by the royal clan because of his lack of talent and morals. Haihun is the ancient name of a very small kingdom to the north of Jiangxi.
Archaeological activities at the cemetery, located near Nanchang, capital of Jiangxi province, started in 2011. About 10,000 cultural relics, including gold, bronze and jade artifacts, have been unearthed so far.
Yang Jun, head of the archaeological team of Haihunhou ruins announced the selected top 10 cultural relics, including jade seal of Liu He, jade accessory of mythical creature, chimes, dressing mirror frame with images of Confucius, bamboo slips, gold wares, silver danglu (a kind of chariot and horse implement), silver-rimmed gold-gilded lacquer box, "Changyijietian" bronze ding (a cooking vessel) and inscribed wooden tablet.
The selection activity was co-hosted by the Jiangxi Provincial Institute of Cultural Relics and Archaeology, Jiangxi Provincial Museum and Haihunhou Site Museum.