88-year-old wood engraver carves name in history books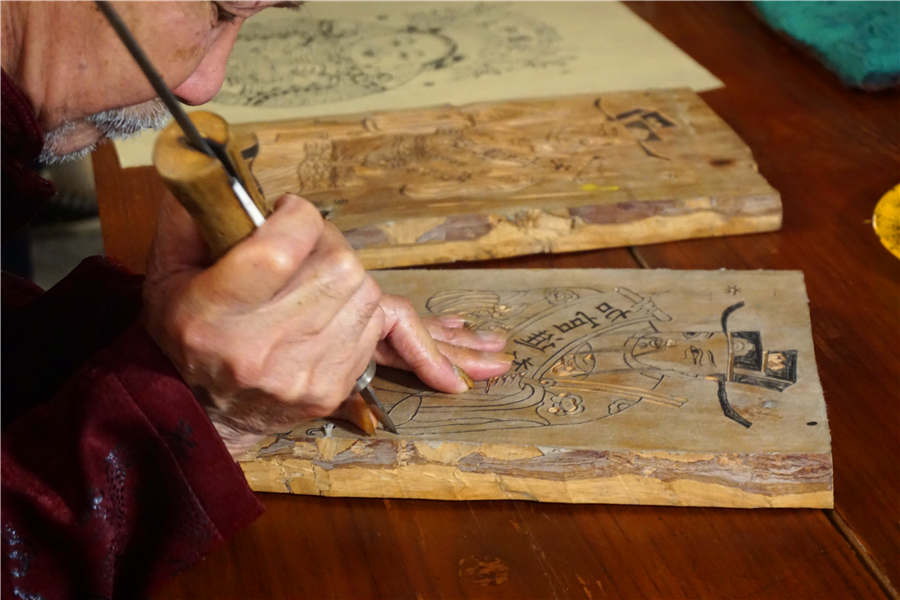 Chen Yiwen carves on a woodblock in his workshop in Laohekou county, Xiangyang city, Hubei province, Sept 25, 2017. [Photo by Bi Nan/chinadaily.com.cn]
Chen Yiwen, who celebrated his 88th birthday on Monday, is the only surviving artist who has a high artistic attainment in wood engraving painting in Hubei province.
Chen is a national-level inheritor of Laohekou wood engraving New Year painting, which originated in the middle of the Ming Dynasty (1368-1644), and thrived during the Qianlong Period of the Qing Dynasty (1644-1911).
The whole process of wood engraving painting mainly includes the following steps: selecting material, sketching on paper, engraving on the woodblock, printing, coloring and drying. The theme of the painting covers figures from ancient history or legends, door gods and others.
Chen's works, with bright colors and meticulous lines, still maintain the authentic local features and folk flavors. One of Chen's wood engraving paintings was selected for the art textbook for middle school students in Hubei, and his works have also been exhibited around the country, as well as in Russia and Italy.
Chen started to learn the handicraft at 14 years old and began his own creation at 16. From Chen's grandfather to his father, the technique of wood engraving painting was passed down in the family, and now Chen's grandson has also inherited the handicraft.
During the thriving times of the painting, when people still kept the tradition of pasting New Year paintings in their houses and there was still no machine replacing manual work, Chen's family's workshop was always bustling and hustling.
But now, few people still use the handmade wood engraving New Year paintings, according to Chen, and the technique is gradually disappearing.
To better inherit the technique, training classes have been opened by Chen, and each year around 30 students took part in the training.
The Laohekou wood engraving New Year painting was listed within the national-level intangible cultural heritage list in 2011.
Currently, Xiangyang city in Hubei province has eight national-level intangible cultural heritages, 30 provincial-level items, and 83 city-level items.