Protection efforts behind successful UNESCO inscription of Hoh Xil, Gulangyu island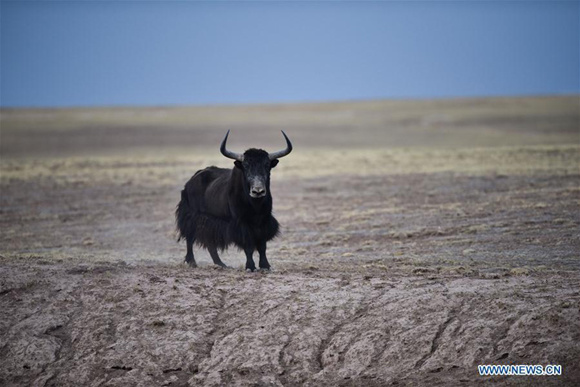 Photo taken on Dec 1, 2016 shows a wild yak in Hoh Xil of Northwest China's Qinghai province. The 41th session of the World Heritage Committee on July 7, 2017 decided to put China's Qinghai Hoh Xil on the prestigious World Heritage List as a natural site. [Photo/Xinhua]
Upon hearing the news that China's Hoh Xil was put on the World Heritage List as a natural site, Lhalung Tsering, 42, was as proud as could be.
"Hoh Xil's inscription opens the door for global cooperation on animal conservation and scientific research," Lhalung Tsering said.
He has been patrolling Hoh Xil since the 1990s when poaching was the most serious in the region. With an average altitude of more than 4,600 meters, Hoh Xil is a rare plateau with a special ecosystem, unique plants and valuable animals.
Hoh Xil is a region in the northwestern part of the Qinghai-Tibet Plateau. As the world's largest, highest and youngest plateau, it hosts many endemic species and is home to more than 230 species of wild animal, including the wild yak, wild donkey, white-lip deer, brown bear and the endangered Tibetan antelope.
In 1997, a national nature reserve was set up in Hoh Xil to protect Tibetan antelope. Lhalung Tsering recalled the hardy days when he and his teammates would hardly sleep for days and had no food to eat, while they were tracking down poachers.
Now the number of Tibetan antelopes in Hoh Xil exceeds 60,000, and poacher's shots have not been heard for over a decade, according to Luo Yanhai, deputy director of the local forest police bureau.
Like many patrollers, Luo also devoted his best years to the preservation of Hoh Xil. But he had no regrets.
"At least today's children are able to see flocks of Tibetan antelopes running and leaping in front of their eyes in the wild nature instead of in a museum," he said.
A conservation regulation on Hoh Xil was implemented in October, indicating the site is now protected by law. Over 90 percent of the region has been labeled as wilderness that requires the most strict protection.
"Due to the vast territory of the site, high-tech means are also being introduced in patrolling as a forceful assistance to patrollers, and the inscription will speed up the process," said Wu Dejun, a local Communist Party of China secretary.
Since October 2010, a protection coalition has been formed among Hoh Xil and its neighboring nature reserves in Tibet and Xinjiang to carry out cross-region anti-poaching and preservation missions.
A multi-level management system from the state to local communities has been established to keep intact wilderness landscapes in Hoh Xil and the breeding of its animals, according to the nature reserve administration.
Related: China pledges enhanced heritage protection cooperation