2,000-year-old bronze ware unearthed in Chengdu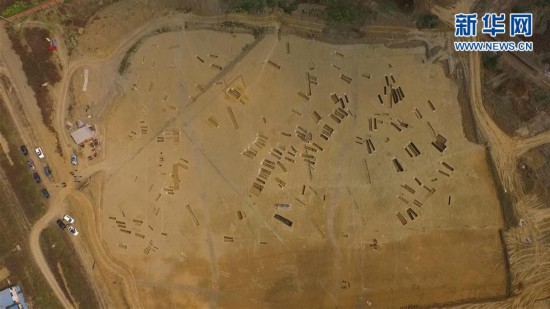 [Photo/Xinhua]
Chinese archeologists discovered a large deposit of bronze items in Chengdu, capital of Southwest China's Sichuan province, when excavating a tomb cluster dating from between the Spring and Autumn Period (770-476 BC) and the Warring States Period (475-221 BC).
Wang Tianyou, head of the archeological team from the Chengdu Cultural Relic Research Institute, said they have excavated 180 tombs in an area the size of two soccer fields, from which 540 bronze ware items were unearthed, ranging from weapons, utensils and tools to ritual statues.
The largest number of items was found in a tomb holding a boat-shaped coffin, which was carved out of a tree trunk and sealed with mud.
The bronze ware is elaborately engraved with designs such as cicadas, tigers, dragons, handprints and symbolic patterns of the Kingdom of Shu, which was an ancient civilization in Sichuan, and the Kingdom of Chu, a civilization in present-day Hubei and Hunan provinces.
The smallest bronze pieces were a set of knife sharpeners, each 4 centimeters long.
Liu Yumao, a research fellow with the institute, said the findings are important evidence to help understand the culture of the Kingdom of Shu and its interaction with other kingdoms.
Related:
540 bronze items unearthed in Chengdu tomb cluster