Inheritor preserves old tradition of making Yixing Zisha teapots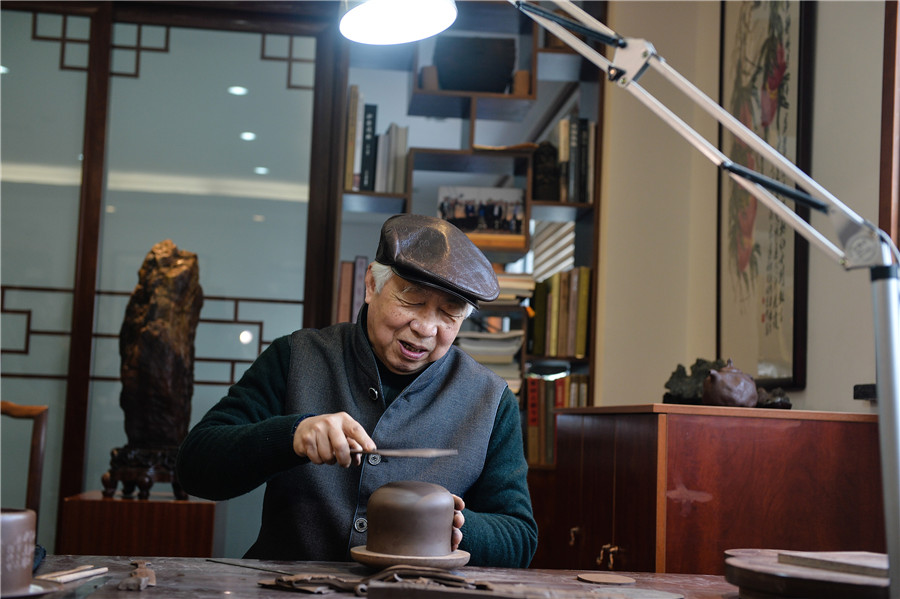 Gu Shaopei, a 70-year-old inheritor of Yixing Zhasha Teapot, makes a clay teapot at his workshop in Yixing city, East China's Jiangsu province, on Dec 29, 2016. A teapot maker for more than 50 years, Gu always pays great attention to the innovation and development of the art form in Zhasha teapots. [Photo/Xinhua]
Tea culture has flourished in China since ancient times, and besides tea and water, other elements, like teapots, are also involved in the tradition.
The Zisha teapots, or clay teapots, produced in Yixing city of East China's Jiangsu province are considered to be the best mediums for making tea.
According to historical records, the first handmade Zisha teapot was created by a monk using local clay in Yixing in Song Dynasty (960-1279), but the craft did not flourish until the Ming Dynasty (1368-1644).
The Yixing Zisha teapot is especially good for enhancing the taste of tea because of its texture, and many tea-lovers agree that tea from a Zisha pot is better.
The Zisha teapot is a kind of ceramic ware with no glazing. The clay is highly porous but water cannot leak from it. The porous nature of Zisha clay allows the teapot to absorb the essence of tea, which makes the tea taste better.
To make a Zisha teapot, the material should be carefully selected and processed before it can be used. The teapot can only be made by hand using a special method.
Due to the artistic design and delicate production process, the Zisha teapot is no longer a daily necessity, but considered a work of art that is widely collectable.
In 2006, the production technique of Yixing Zisha teapots was listed among China's Intangible Cultural Heritages. By the end of 2015, a total of 6587 professionals worked in ceramics in Yixing.