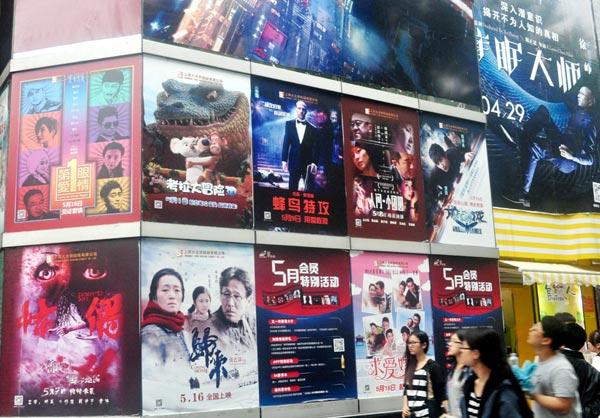 People walk by movie posters outside a cinema in Shanghai on May 18, 2014. [Photo by Yan Daming/Asianewsphoto]
Recurring box office fraud has cast a shadow over China's surging film market, now the world's second largest.
Last week, seven Chinese cinemas were banned from screening new films due to cheating on box office figures.
The suspension is the second of its kind this year after nine cinemas were punished for similar conduct in February.
The fraud was committed to avoid lawfully sharing box office earnings with filmmakers and other parties, said Tu Biao, a seasoned film market observer.
Is fraud inevitable?
Box office fraud is a natural outcome of the ballooning film sector in the country, according to Shi Chuan, vice president of the Shanghai Film Association and a professor at Shanghai University.
China's box office sales in 2013 neared 21.8 billion yuan ($3.6 billion), up from 860 million yuan in 2002 when the sector became more commercialized.
Shi said the film market expanded not only in box office figures, but also in the number of cinema screens, which have extended into second-tier and third-tier cities as well as counties over the years.
As of April this year, there were 20,285 screens in the country, compared to 1,581 in 2002, according to figures from the State Administration of Press, Publication, Radio, Film and Television (SAPPRFT), the nation's film watchdog.
Meanwhile, the number of theaters surged from 872 in 2002 to 4,545 in April. The number of screens in counties also surged rapidly, now accounting for 30.2 percent of the total.
"The explosive expansion caught the film watchdog off guard," Shi said, adding that it was just too many too soon for SAPPRFT to manage.
Lack of supervision, in turn, made room for theater chains to conspire with cinemas to cheat filmmakers and other parties out of ticket sales, Shi said.
However, the fraud has mainly been confined to second-tier and third-tier cities, where supervision from both the government and filmmakers is relatively weak. Most of the 26 cinemas that were found to be cheating on box office figures this year were located in small cities in provinces including Shandong, Shanxi and Henan.
Their methods for cheating on ticket sales included issuing handwritten tickets or using a "dual software system" to sell film tickets without registering the real box office gains to a uniform system, according to Huang Qunfei, general manager of the New Film Association.
Industry experts hold that real box office sales are at least 10 percent more. Though fraud seems inevitable, many experts believe it is stoppable.