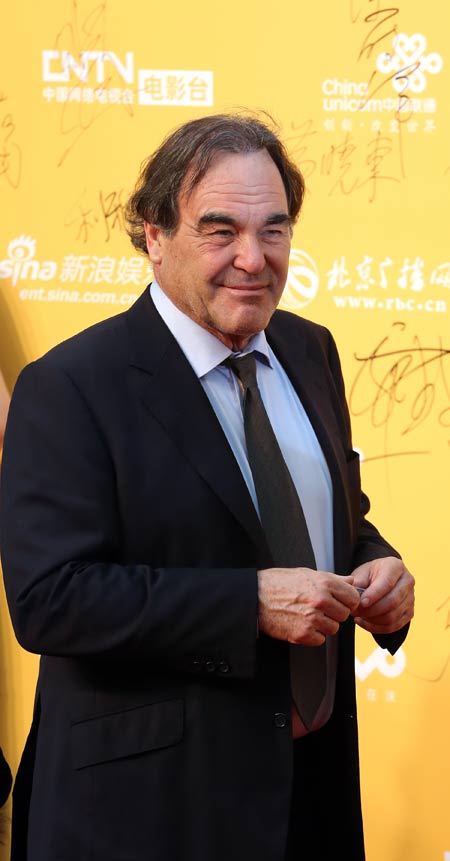 Oliver Stone sparks some embarrassment on a panel discussion during the festival. Jiang Dong / China Daily
"Most co-productions ... don't work," said US director Oliver Stone at the ongoing 4th Beijing International Film Festival.
The outspoken director was part of a panel discussion on the localization strategy of international co-productions, and was responding to Zhang Xun, general manger of the China Film Co-production Corporation.
"Money is the dictator," said the director of Wall Street. "Some American films use some Chinese actors just to make money. Iron Man? Transformers? Is it really a Chinese experience?"
Embarrassingly, the two films were celebrated as "great examples of the collaborations of Chinese and American filmmakers" in a speech prior to his remarks by Christopher Dodd, president of the Motion Picture Association of America.
The two different perspectives reflect the complicated reality of co-productions: It is the most discussed topic among filmmakers from China and the United States, yet there have been very few successful productions.
The excitement about co-productions is largely because in China, an officially approved co-production is treated as a domestic film, and thus exempt from the quota of only 34 foreign films for annual theatrical release. Also, the foreign investors of an official co-production can share the box-office revenues according to their contract with co-investors, while for an imported film, they can share no more than 25 percent.
Not surprisingly, Hollywood studios have been trying to navigate the regulations on imported films by co-producing films with domestic filmmakers.
To have one or two Chinese actors feature in the film initially seemed like a simple approach, but it has been forbidden by regulators.