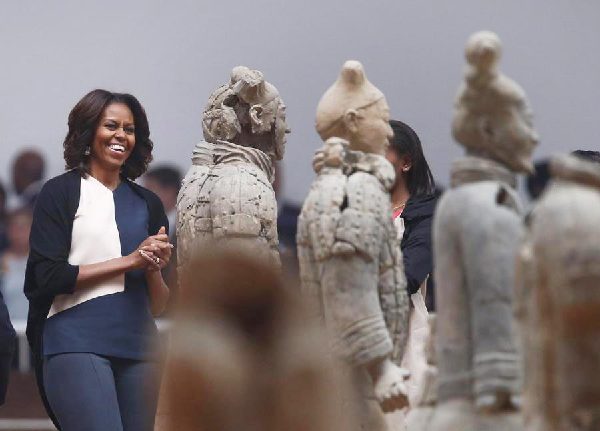 US first lady Michelle Obama (L) laughs as she visits the Museum of Qin Terracotta Warriors and Horses with her daughters Sasha and Malia, in Xi'an, Shaanxi province, March 24, 2014. [Photo/Agencies]
US first lady and family get up-close introduction to Terracotta Warriors
US first lady Michelle Obama dived deeper into Chinese culture on Monday when she visited the Terracotta Warriors and the ancient city wall of Xi'an, capital of Shaanxi province.
On the fifth day of her visit to China, Obama, traveling with her mother and two daughters, toured the two best-known historical sites in Xi'an, which has a history of more than 3,000 years.
They were given a detailed introduction to the Terracotta Warriors, the sculptured guards designed to guard Emperor Qinshihuang in the afterlife, at the emperor's mausoleum in Xi'an's Lintong district.
Obama and her family arrived at the museum at around 1 pm on Monday and toured the No 1, 2 and 3 pits of the warriors' excavation sites. The sites were closed to the public during their two-hour visit.
"She was listening with great interest," said museum director Cao Wei, who led the tour.
After a half-hour introduction and walk along the pits, Obama and her family were given a chance to stand side by side with the sculptures and have a closer look. The first lady also spoke with several archaeologists working at the excavation site.
They then visited Yongning Gate at the ancient city wall, where she was welcomed by actors dressed as warriors, maids and a ritual official from the ancient times as part of a traditional reception.
Afterward, Obama and her family played with some students at the Middle School Attached to Northwestern Polytechnical University, who were skipping rope atop the ancient city wall. On several occasions, Obama cracked a joke that sent a roar of laughter through the crowd.
Special: US first lady visits China