A 3,000-year-old Chinese bronze, called min fanglei, will soon return to its birthplace to be reunited with the lid from which it was separated nearly a century ago.
The reunion was made possible by a private purchase by Chinese collectors on April 19 in New York.
Acclaimed as the "king of all fanglei", the square bronze, which dates to the Shang Dynasty (c.16th century-11th century BC), served as a ritual wine vessel. It was excavated in Taoyuan, Hunan province, in 1922.
It was supposed to appear in a Christie's auction on April 20, but a deal was reached before the sale between its European owner and a group of Chinese collectors from Hunan. It will be donated to the Hunan Provincial Museum, where the lid has been kept for decades.
Chinese buyers offered $20 million, but Tan Guobin, one of the collectors, declined to reveal the final price.
"It's not expensive at all. Bids would have gone much higher if it had gone under the hammer," Tan said.
Tan first saw the vessel during Christie's autumn sales in Hong Kong in November, when the auction house also previewed objects to appear in its other sale rooms worldwide. Tan collects Chinese paintings, calligraphy and contemporary art.
He said he was thrilled by the vessel, and after returning to Hunan he persuaded several enterprises and the provincial museum to jointly purchase it.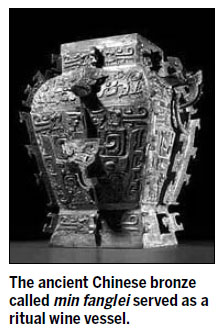 On March 15, the museum wrote to Christie's to express a desire for a private purchase. It offered $20 million, which had been raised from local enterprises. The museum's and collectors' representatives brought a 3D printed prototype of the lid to New York and it turned out that the prototype matched the vessel.
Christie's chief executive officer Steven P. Murphy said in a post-sale statement: "As always, it is our duty to be a responsible steward of the important cultural objects that are entrusted to our care. Christie's feels privileged to have acted as custodian of the min fanglei and to have facilitated its transfer."
A staffer at the State Administration of Cultural Heritage who did not want to be named said the administration has been paying close attention to the purchase but right now cannot provide further information about when the vessel will arrive in China.
Fanglei first appeared in the 13th century BC in the Shang capital of Anyang, Henan province. During the 12th and 11th centuries BC, vessels of this shape were transformed into bolder works of art, with decorations cast in higher relief.
"With a combination of massive size, superb casting and powerful proportions, the bronze ritual wine vessel is among the most important Chinese archaic bronzes that ever appeared at auction," said Nick Wilson, a senior specialist of Christie's department of Chinese ceramics and works of art.
"The precise casting and bold conception of design vividly illustrates why bronze vessels created during the Shang Dynasty and Zhou Dynasty (c.11th century-256 BC) rank among the finest examples of the bronze casting the world has ever seen."
The decoration on the min fanglei is dominated on the lower potion by prominent and strikingly mysterious zoomorphic masks, with either dragons or birds encircling the foot, shoulder and neck. Hybrid creatures on the vessel's shoulder and handles are formed by pairs of dragons that feature sharp tusks and pointed teeth.
Sun Yuanqing in Beijing and Feng Zhiwei in Changsha contributed to this story.