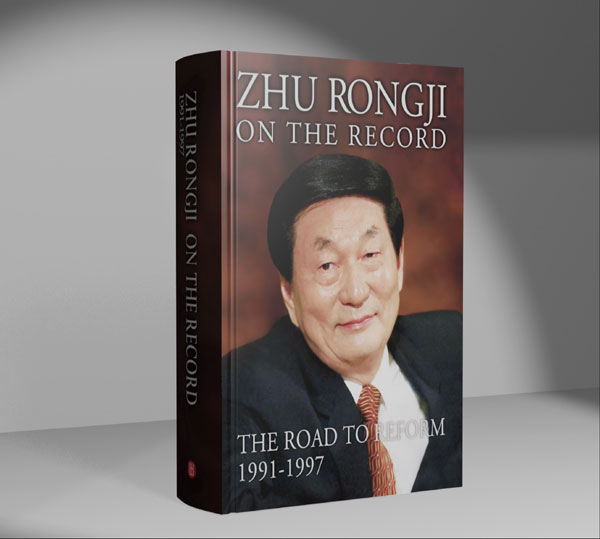 New Yorker June Y. Mei has been translating for former Chinese premier Zhu Rongji for many years and that long relationship has proved useful when rendering a book of his speeches and articles into English. Mei Jia chats with the translator about why ideas, not just words, are so important.
When former Chinese premier Zhu Rongji visits the United States, he always calls on his most trusted interpreter, New Yorker June Y. Mei. That long professional relationship has now resulted in Mei translating the first of Zhu's two-volume book Zhu Rongji on the Record. It has already been hailed an authentic interpretation that manages to not only present the factual information, but also reflect Zhu's forthright and forceful speaking style.
Subtitled The Road to Reform 1991-1997, the book is jointly published by Foreign Language Press and the US' Brookings Institution Press. It's the latest of Zhu's books to be translated for an English audience. Mei is currently working on volume two.
Mei jokingly refers to herself as a "talk fast and eat fast New Yorker". She believes one of the reasons she earned the trust of the former premier is because "I speak fast".
She recalls a meeting in New York in the 1990s, when Zhu asked her to wait until he had finished speaking before translating what he said to the audience.
"I didn't understand at first, telling him I could do simultaneous translation to save time for him to talk more," Mei says. "He insisted."
"Then I realized he preferred to use the time when I was translating to view the audience's reaction to decide what he would say next," she says, adding that this is when she realized what a shrewd communicator Zhu was.
"He preferred a fast talker because he didn't want the pauses to be too long," she says with a smile.
Mei says her translation of Zhu's book benefits from her experience working closely with him. "Translators are like actors, if you have the chance to meet the person you portray, your performance will be improved," she says.
Whenever she comes across difficult sentences to translate she asks herself, "Can I imagine Zhu speaking in this way in English?"
In one speech, Zhu refers to a metaphor of bottoms sitting in different places. Mei tried to use euphemisms, but eventually decided to keep the original language to reflect the premier's spicy and bold character.
Known as a charismatic and pragmatic reformer, Zhu led China through its critical period of reform when he served as vice-premier and premier from 1991 to 2003. Before that, he was mayor and Party chief of Shanghai.
He was among the leaders who brought China into the global system and built close ties with the international community, according to former US secretary of state Henry A. Kissinger.