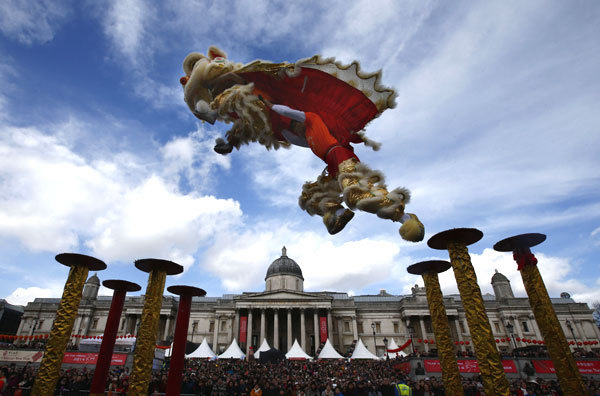 Fantastic Lion dance is performed during the the Chinese Lunar New Year celebration on Trafalgar Square, the heart of London, Feb. 2, 2014. [Photo/Xinhua]
LONDON -- Fantastic lion and dragon dance, and fascinating singing and Chinese traditional instruments were performed on Sunday, not in China, but the heart of London City, attracting tens of thousands of people.
Located at the heart of London City, the 200-year-old Trafalgar Square is one the most important places of the city, where Chinese people in Britain held a lot of celebration activities during the past decade's Chinese Spring Festivals.
More than ten stalls selling traditional Chinese Spring Festival goods were opened in the morning on the edge of the square. Buyers from everywhere across the world bought those red and vivid mascots, and different kinds of Chinese traditional decorations in those stalls.
"We came here at 7:00 this morning. And the business goes very well today, thanks to the good weather. I believe it must be better than last year," said Ni Qiangqiang, a staff of one of the stalls.
"Look at those children, most them hold a box of bang snaps (a type of small novelty firework). It reminds me the temple fairs in Beijing. It's unbelievable to see the scene in London," said Liu Yan, who travelled to London from Beijing for her vacation.
Zheng Chaogang, who lives in Salisbury, took his wife and daughter to the parade which commenced at North of Trafalgar to Shaftesbury Avenue in Chinatown before they arrived at the square to see the performances.
"It will take an hour and a half to arrive here from my home, so we got up before seven. We used to spend the Spring Festival with the family in Fujian Province. But this year, we didn't return home, so we come here," Zheng said.