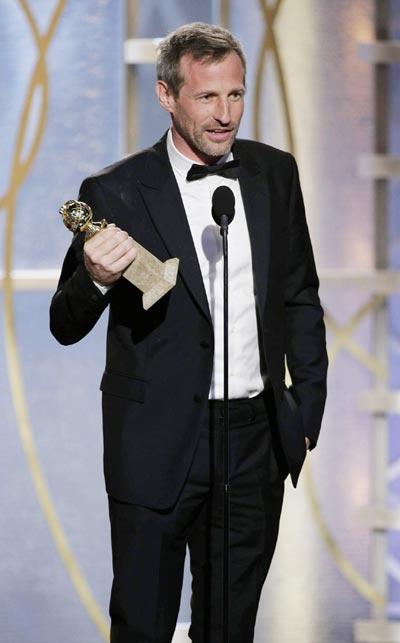 Spike Jonze holds his award for best screenplay - motion picture for Her, during the 71st annual Golden Globe Awards in Beverly Hills, California, on Jan 12. Reuters
Does Spike Jonze's new
movie
, Her, a tale of a man who falls head over heels for his computer operating system, pander to US mistrust of China? Or does it merely use
Shanghai
as a stand-in for the Los Angeles of the near future to make an important point about how people interact in a high-tech society?
That is the question. Writer and director Jonze's acclaimed film, which won a Golden Globe award last Sunday for best screenplay, and has been nominated for a best picture Oscar, finds Joaquin Phoenix's character, the melancholy Theodore Twombly, irresistibly drawn to "Samantha" (Scarlett Johansson), the husky voice of his new, artificially intelligent operating system, which not only tidies up his inbox and organizes his hard drive, but also provides welcome companionship for Theodore, who is in the midst of a painful divorce and facing the prospect of taking on the dreaded dating jungle.
The Los Angeles in which Theodore works and lives merges locations in the real City of Angels and in the Pudong business district of Shanghai. Shots of the Chinese city's raised walkways and skyscrapers (in the future, LA's earthquake problems apparently have been solved) create a vision of downtown Los Angeles that is, in one US reviewer's words, "filled with curves and fabrics, beautiful lighting and soft textures". Production designer K.K. Barrett says the aim was to make the city look "convenient, comfortable, healthy and available" - a veritable reversal of the dark persona that characterized LA in the 1982 dystopia movie Blade Runner - to serve as a perfect foil for Theodore's daily struggles.
The city's look "shows things that can't be heard through dialogue", Barrett says in an interview with Curbed Los Angeles. "It gives more information about the characters and the world around them without being intrusive. The production design is wrapped around him and becomes part of his character - and the bubble he lives in."
Particularly striking are several shots of Chinese neon signs among the towers. "We didn't hide it," Barrett said of the signs. "It's part of what LA is and what LA will become. We embrace the signage."