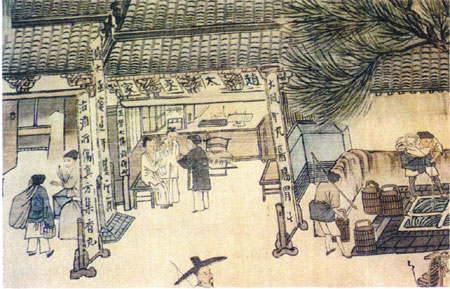 An abacus can be seen on an herbal medicine shop's desk in the painting Riverside Scene at Qingming Festival. Provided to China Daily
The abacus was widely used as a basic computing tool in China before the electronic calculator.
People devised catchy rhymes about the rubrics of using an abacus and about formula shortcuts. Memorizing these phrases was once essential for people whose occupations involved numbers. Consequently, abacus slang became part of the parlance of the times.
The abacus is commonly used in Chinese as a metaphor for scheming and speculating.
These phrases include:
1. sā n三 xi à下 wǔ五 ch ú除 è r二
at one go; neatly and quickly
It's one of the most basic rules of performing addition with an abacus. Because the rule enables people to calculate faster, the phrase has become a metaphor for finishing something efficiently or instantly.
EXAMPLE:
He finished writing the article neatly and quickly.他三下五除二就写完了那篇文章.
2. dǎ打 xiǎo小 suàn算 pán盘
petty and scheming
Literally, the phrase means to calculate on a small abacus. It has a negative connotation of stinginess or conniving.
EXAMPLE:
The company is on the verge of bankruptcy. The employees all have their own ideas about whether to leave or stay.
公司就要倒闭了,是去是留,每个人都在打小算盘.
3. rú如 y ì意 suàn算 pá n盘
wishful thinking; counting without one's host
The idiom was first used in Observations on the Current State of Officialdom, a famous Qing Dynasty (1644-1911) condemnation novel by Li Baojia, to depict bureaucrats' wishful thinking.
EXAMPLE:
He says he's sure to get a job when he finishes university, but that may be just his own wishful thinking.
他说他大学毕业后肯定能找到工作,但这也许只是他的如意算盘而已.
4. jiǔ九 jiǔ九 gu ī归 y ī一
after all; in the end; in the final analysis
It used to be the last phrase of the abacus rhyme for multiplication that states: When 9 is multiplied by 9, the second digit becomes 1 (in 81). Now the idiom is used to suggest everything returns to its original state.
EXAMPLE:
我们转来转去最后又还了原,真是九九归一.
Though we made a lot of effort, things ended up like they started.
5. ti ě铁 suàn算 pán盘
This literally translates as "iron abacus". It refers to people who are careful about calculations and stringent with budgeting.
EXAMPLE:
他那铁算盘谁也算不过他,你跟他合伙做事要小心一点. He is so much stricter in his budgeting than anyone else. You should pay attention when partnering with him in business.