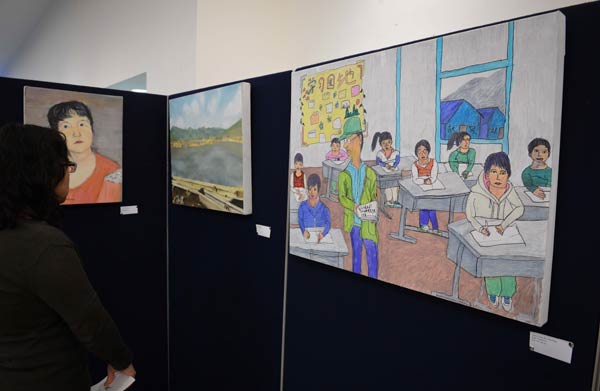 A visitor watches in an exhibition held at the UN headquarters in New York, Nov 3, 2014. [Photo/Xinhua]
UNITED NATIONS -- Starting Monday, the UN headquarters are hosting a week-long exhibition of the art works of a group of students who were disabled during China's Wenchuan Earthquake in 2008.
The items on display include graphic designs, sketches and oil paintings, showcasing China's diverse folk cultures, including those of the Qiang ethnic group and Tibet.
One of the students, Kou Juan, who lost her left leg in the quake, said painting has given her confidence and also helped her find a new direction in life.
Her work shows a melting ice cream in the shape of a polar bear. "It's about environment protection, and I really love nature."
"I hope that this exhibition will continue to foster hope and promote opportunities for those who would otherwise be lost," said exhibition curator Kevin Wang.
The exhibition will be open through Friday.