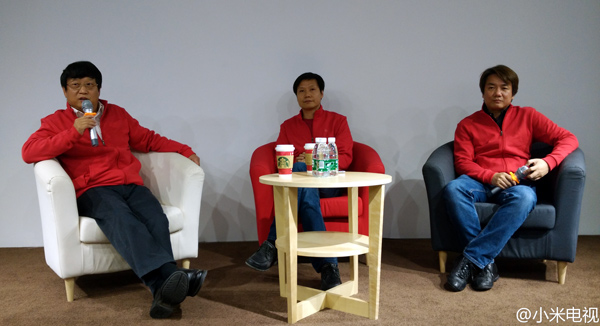 Chen Tong (left), vice-president of Xiaomi speeks at a media conference on Nov 4, 2014 in Beijing. [Photo posted on Xiaomi TV's Sina Weibo official account]
Xiaomi Technology Co Ltd, a Chinese smartphone maker, announced today that it has hired Chen Tong, former executive of Sina Weibo, China's Twitter-like microblog, to expand the firm's business into the media sector.
Chen, 47 years old, resigned as chief editor and executive vice-president of Sina Corp in October this year. He has worked for Sina since 1997, and has served as chief editor and executive vice president since 2007.
Chen has been appointed the vice-president of Xiaomi, in charge of media content building and management.$1 billion will be invested in the firm's TV content development business, said Lei Jun,founder of Xiaomi,at his Sina Weibo account.
Thanks to Chen, Sina established the Twitter-like platform in 2009. By 2013, it had over 500 million users and over 100 million monthly active users. In April this year, it was officially listed on the NASDAQ Stock Exchange in the United States.
According to Xiaomi's official Weibo account, it will invest $1 billion in television content building. The investment is aimed at enriching the company's content and becoming a 'leading bellwether for the industry',said Xiaomi.
Early last month, Xiaomi spent 50 million yuan ($8 million) to invest in Zhejiang Huace Film & TV Co Ltd, a film producing company.
According to media reports, Lei has planned a complicated roadmap for the firm's development in media content area through a series of investments. Chen said he is honored to help Xiaomi on its brand awareness promotion.