Supply chain in focus with new approach
Innovation to underpin integration as model aims to set global example
Logistics and delivery services, a key part of the supply chain process, have seen robust growth with the rapid development of internet services and strong consumption.
A new guideline, aiming to integrate supply chains, will drive China's businesses to develop in a more comprehensive manner, according to the State Council.
On Oct 13, the General Office of the State Council released a guideline on promoting innovation to establish a smart supply chain that basically covers major industries by 2020 and building the nation into a key center for supply chain innovation and application.
This will include the introduction of a batch of new supply chain technologies and models, and the cultivation of about 100 world-class enterprises in the supply chain sector, according to the guideline.
Bai Ming, a researcher from the Ministry of Commerce's Chinese Academy of International Trade and Economic Cooperation, says while supply-chain businesses have been developing rapidly, this is the first time the idea of a "supply chain" was prioritized in a State-level policy guideline.
"The guideline comes against the background that China is moving rapidly in supply-side economic structure reform and consumption keeps showing strong momentum," he said, adding that developing the supply chain system answers the increasingly diverse call from the consumption market.
"Meanwhile, a more developed supply chain business system will help more precisely match commodity demand and supply, which will greatly reduce company costs and avoid waste, especially in the agriculture sector," he said, adding that the biggest drawback for retail services is the mismatch in demand and supply.
According to Bai, supply-chain businesses, or companies, refer to those that integrate the process of production, logistics, dispatch and retail, with the entire process traced and managed.
E-commerce major JD.com, which has its own delivery system, and feedstuff giant Newhope Group are prime examples.
"People's consumption habits are changing, relying more on buying online. More comprehensive supply-chain businesses will greatly help the country to lure consumption potential and improve consumption quality," Bai said.
Figures from the National Bureau of Statistics show that for the first three quarters of this year, consumption contributed 64.5 percent to overall GDP growth.
Major areas were laid out concerning the supply chain; rural areas, an integrated, smart and green supply chain, financing services for the supply chain, and its global perspectives.
Agriculture is among the areas in the guideline, urging the integrated development of the primary, secondary and tertiary industries in rural areas.
Wu Yongtao, founder and CEO of Linlaoban, an internet-based retailing supply-chain company, welcomed the guideline.
Wu founded the company in 2015, which provides online retailing channels for individually owned convenience shops in second-and third-tier cities.
"I think this means the government will soon issue a set of policies that will boost the development of supply-chain industries and related sectors, such as logistics, agriculture, and retailing services. Hopefully, this will greatly help reduce the cost of supply-chain companies like us," Wu said.
Family farms, farming cooperatives and leading enterprises in agricultural industrialization are encouraged to establish a supply chain mechanism that integrates the production, processing, circulation and services of products, according to the guideline.
The document also called for promoting the establishment of an information platform for the agricultural supply chain, collecting big data in every stage of production and processing, and sharing information services in policy, market, technology and insurance.
Wu said he believes China's fast-growing internet facilities and changing consumption patterns provide the perfect background for the supply chain to develop.
He said that, in recent years, logistics has not been a high cost for supply-chain companies.
The biggest cost for agriculture-related supply-chain businesses is the mismatch of information between demand and supply, which usually leads to waste.
"The precise information of demand usually lags behind agriculture production and its logistics.
And waste might occur when products, such as fruits and vegetables, were stocked and not sold in a certain time period," he said.
He also said that developing the supply chain will be in line with the government's efforts in poverty alleviation, especially in rural areas.
It was also made clear in the guideline that the equipment and standard procedures concerning agricultural products and the food chain should be reinforced, with efforts to reduce the circulation costs and losses.
The guideline also put emphasis on quality control, requiring a tracking system for key products.
Song Yan, who works in marketing for a Beijing dairy company, said she expects the guideline to bring out more favorable policies that better facilitate cold chain transportation, and thus reduce the cost of dairy products.
The guideline also said a number of public service platforms for service-type manufacturing will be established.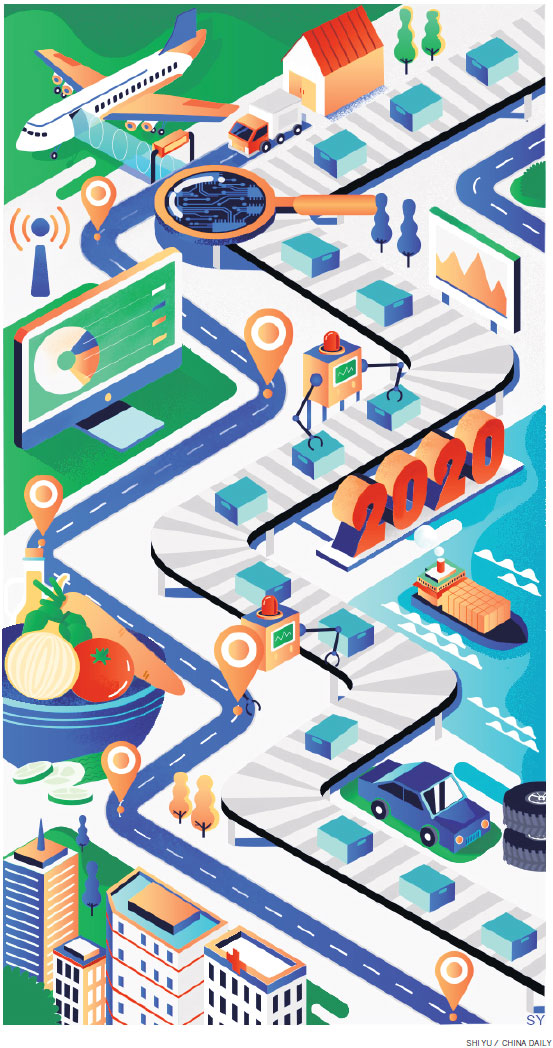 Editor's picks