In a first, graduate marries, settles down in village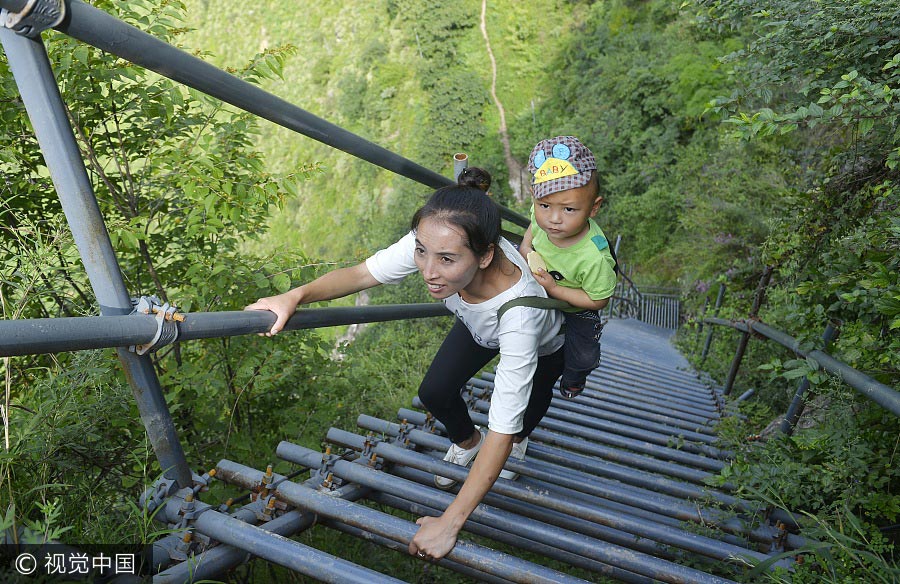 Chiwu Erhlo, the preschool teacher of Atuleer village, climbs a steel ladder with her son on her back in Zhaojue county, Liangshan Yi autonomous prefecture, Southwest China's Sichuan province, Sept 26, 2017. [Photo/VCG]
Preschool children in Atuleer village, an isolated community in Southwest China's Sichuan province, have learned Mandarin and become more confident and open in the past year thanks to Jiwu Erluo, the first university student who married someone from the village.
Atuleer, home to 500 people living atop a cliff more than 1,400 meters high, used to rely on an 800-meter zigzag network of rattan ladders with no railings to travel outside the village, which was the only way to get to the outside world.
The inaccessibility and poverty meant outsiders seldom choose to settle in the village in Zhaojue county, Liangshan Yi autonomous prefecture. However, 28-year-old Jiwu Erluo decided to stay in the village after marrying her husband, Jiba Riluo, a native villager.
When they met, she was a college student and he worked as an assistant traffic police officer in Xichang city, Sichuan province.
They fell in love quickly and Jiba talked frankly with Jiwu about his hometown. To his surprise, Jiwu was not frightened by the cliff ladder.
"Marriage relies on the hand of destiny. I don't care where his home is," she said.