Special subway train for Wuhan Open ready to serve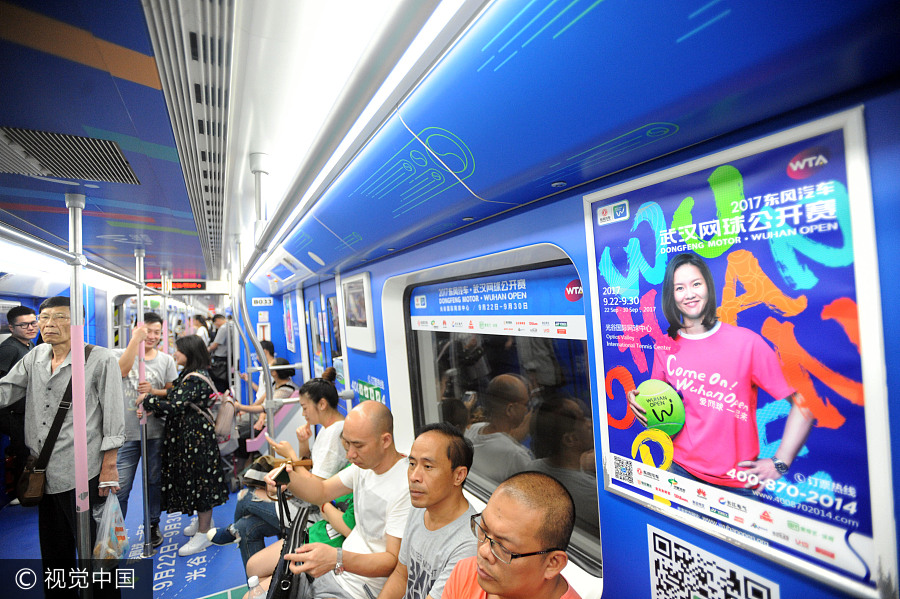 A view of the special subway train designed for Wuhan Open, which will be held from Sept 22 to 30 in Wuhan, Central China's Hubei province. Photo taken on Sept 12. [Photo/VCG]
A special train will run on Line 2 of subway and connect the city's Tianhe airport and Optics valley Square business center during the Wuhan Open tennis tournament. The Wuhan Open BRT, No 756 and 333 buses will transport the fans from the business center to the Optics valley Square International Tennis Center to enjoy the games.
Six Grand Slam champions and eight former and current top 2 tennis players, World No 1 seed Karolina Pliskova and French Open champion Jelena Ostapenko, will attend this year's event.
The Wuhan Open, which made its debut in 2014, is held in Wuhan, Hubei province, the hometown of Grand Slam champion Li Na. Female professional tennis players take part in it and is one of the top 5 tournaments on the WTA Tour.