Financial leaders express faith in China
Premier hosts roundtable meeting of important global organizations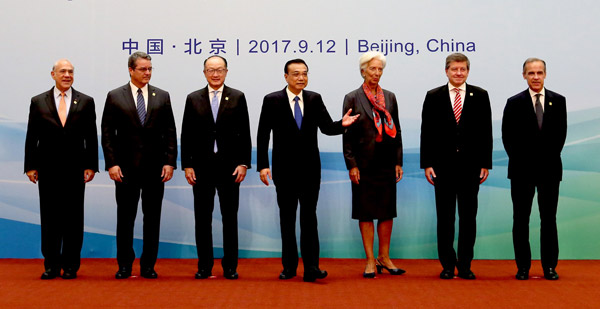 Premier Li Keqiang hosts international financial leaders on Tuesday in Beijing. They are, from left: Angel Gurria of the Organization for Economic Cooperation and Development, Roberto Azevedo of the World Trade Organization, Jim Yong Kim of the World Bank Group, Christine Lagarde of the International Monetary Fund, Guy Ryder of the International Labour Organization and Mark Carney of the G20 Financial Stability Board. [Photo by WU ZHIYI/CHINA DAILY]
The leaders of key international organizations, including the World Bank, expressed their confidence in China's economic restructuring and growth prospects on Tuesday as the country pursues innovation-driven and sustainable development. They spoke during a roundtable dialogue in Beijing hosted by Premier Li Keqiang.
The dialogue, known as the"1+6" roundtable, is the second such event in which Li has hosted discussions with such financial leaders as World Bank Group President Jim Yong Kim, International Monetary Fund Managing Director Christine Lagarde and World Trade Organization Director-General Roberto Azevedo.
The three other heavyweights were International Labour Organization Director-General Guy Ryder, Organization for Economic Cooperation and Development Secretary-General Angel Gurria and G20 Financial Stability Board Chairman Mark Carney.
The leaders focused on topics such as the global economy, multilateral trade regimes, sustainable development and China's economic restructuring.
In the first half of this year, the country's GDP grew by 6.9 percent, which was within a reasonable range set in the annual Government Work Report. On average, 16,000 new enterprises were registered each day.
In the past few years, China has been committed to restructuring its economy, Li said during the dialogue. The Chinese economy has stabilized, contributing 30 percent of the world economic growth, Li said.
More than 13 million new jobs were created in urban areas in each of the past four years. From January to August, 800,000 more jobs were generated than in the same period last year, he said.
Domestic consumption has become the most crucial driver now that the service industry generates the largest amount of added value, taxation revenues and employment opportunities, the premier said. The country's economic growth is now propelled by consumption, investment and exports in a more balanced way, he said.
The dialogue is important because it shows that China upholds the principle of multilateralism and strengthens its communication with the international community as a responsible major country, Premier Li said.
The premier called for continuing structural reforms by taking opportunities created by a new round of technological revolution and industrial transformation. Systematic innovations should be strengthened to reduce institutional costs and boost business startups and innovations.
Li said the world economy is recovering but also facing a large number of uncertainties. Multilateral trade mechanisms based on free trade should be safeguarded, he said, adding that further openness is needed to solve trade imbalances and achieve mutually beneficial outcomes. He called on all other countries to develop their own comparative advantages in a way that shares global economic development.
"We would like to enhance frank exchanges with the international community to effectively communicate in policy-making and guide expectations, which is to further the continuous recovery of the global economy," Li said.
The six organization heads agreed that China has made great leaps in increasing growth and restructuring and guarding against risks, while it has boosted market vitality with mass entrepreneurship and innovation as well as improving the business environment.
They also said China has attached great importance to and supported multilateralism and free trade, and its stabilizing economy provides strength to shore up the recovery and growth of the world economy.
Lagarde said at a post-dialogue news conference that she observed a rebalancing of the Chinese economy from investment to consumption and from industry to services, as well as moving from mechanical to digital faster than anyone else.
According to Azevedo, China's commitment to accelerating reform and to focusing more on sustainability and quality is welcome and will be supported.
Kim said, "This is the time that we need multilateral institutions and international cooperation more than ever before."