Facial recognition IDs 25 suspects at Qingdao beer fest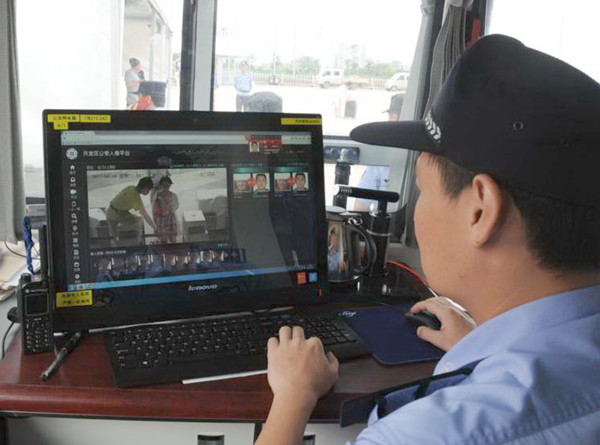 A Qingdao police officer uses facial recognition technology to cross-reference an image with pictures in a database.FENG KAIMING / FOR CHINA DAILY
Twenty-five wanted criminals hoping to quaff a few brews at the Qingdao International Beer Festival were recognized by the local police bureau's facial recognition system and detained.
During the event, which ran from Aug 4 to 27, the system captured and analyzed 2.3 million facial images. About 190 of them were flagged to police, who confirmed that 25 were wanted criminals.
In addition, with the help of the technology, police turned away 19 drug addicts, caught five would-be pickpockets (suspects with past police records whose photos were on file) and ejected 32 others.
"It was the first time we used the facial recognition system at such a big event," said Wang Jianshun, director of the police branch in the Qingdao Development Zone, which advised the software developer.
Eighteen high-definition cameras were installed at four entrances to the beer festival. The system is designed to sound an alarm if 85 percent of a subject's face matches an image in the police database. Further inquiries are then made by police officers.
"Correct matches were made 98.1 percent of the time," Wang said, adding that the police had worked with the technology company to optimize the system.
Wang said the system can find matches and identify suspects in less than a second as they pass by the cameras.
"More than 50,000 people swarm into the beer festival venue every day, with 100,000 on peak days. But the crowd usually moves slowly through security checkpoints, which means high-quality facial images are guaranteed," Wang said.
The police also dispatched six officers near each entrance, to be responsible for the image matching and follow-up queries, as well as to prevent suspects from sneaking in.
When one suspect tried to enter the festival on Aug 12, the facial recognition system determined that he had a 98 percent similarity with a person on the police's wanted list.
The suspect first pretended to be his cousin - who looks similar - but after further inquiry, the suspect, who has been sought by police for 10 years for allegedly organizing prostitution, finally confessed. He told officers he never expected to be captured in a crowd at a beer festival.
On Aug 5, a group of four suspected pickpockets, who had been held by police in the past, wanted to try their luck at the festival, Wang said.
When their faces were recognized, police persuaded them to leave. However, thinking the interception was simply a coincidence, the four tried to enter the festival again at another gate. But they failed there, too.