PLA garrison aids relief after typhoon hits Macao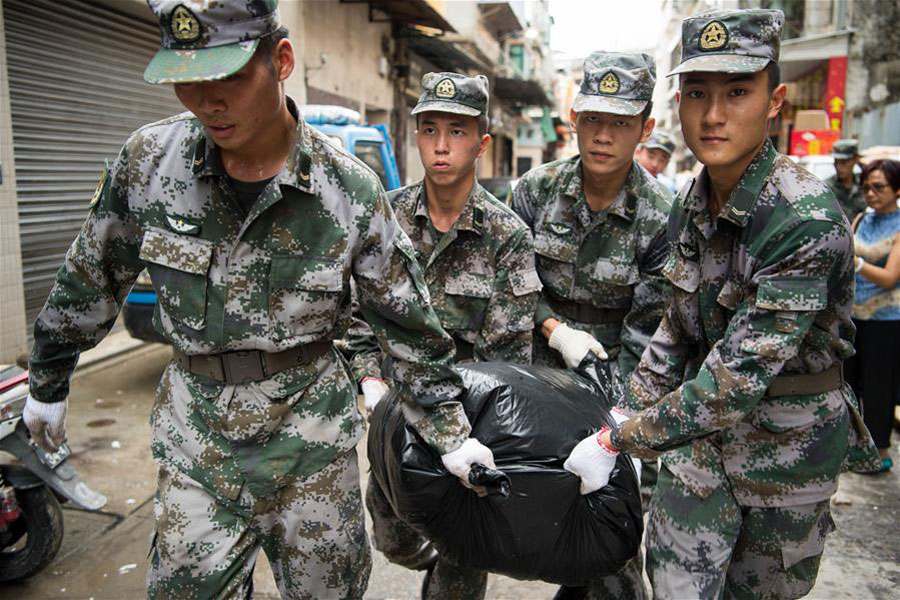 Soldiers help with the relief work of the disaster caused by typhoon Hato in Macao, Aug 25, 2017. [Photo/Xinhua]
The Macao Government Tourism Office asked travel agencies to temporarily stop receiving group visitors until Aug 30 in order to free resources for post-disaster work, as electricity and water supplies had not fully recovered.
There were about 20 power stations still under repair, affecting 3,700 households. The maintenance was estimated to be finished in one to two days, said Ma Io-kun, Macao's police chief and the operation commander of the disaster relief team of the Macao SAR government, during a news conference on Friday afternoon.
He said that water supplies had been restored in a majority of the affected areas, but due to low water pressure, higher areas remained without water, adding that the government will restore water supplies in those areas as soon as possible.
As of Friday evening, typhoon Hato-the strongest storm recorded in Macao for 53 years-left 10 people dead, more than 240 injured and cut power and water supplies to some areas when it struck the city, data from the Macao Government Information Bureau showed.
The Macao Foundation announced on Thursday that it will allocate 1.35 billion patacas ($168 million) to help Macao residents who were affected by the typhoon.
The foundation will provide 300,000 patacas to families who lost a loved one. It will provide medical funding up to 30,000 patacas to each injured person, with the requirement that recipients get registered before Aug 31. The foundation will also provide up to 30,000 patacas for each family whose home was damaged, with registration required before Sept 30. A 2,000-pataca allowance will be given to each household affected by the power outage.
Storm-related flooding severely affected the lives and work of the Macao public. The Macao government, with the support of the People's Liberation Army Garrison in the SAR, has launched all-out efforts to coordinate resources and take measures to limit the effects of the typhoon and the losses resulting from it.
Xinhua contributed to this story.