China Daily, Wuxi deepen partnership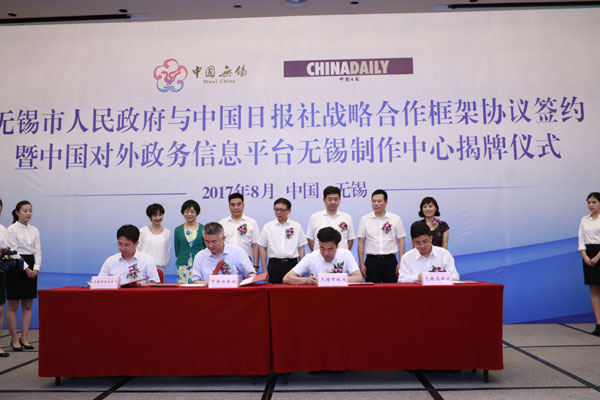 China Daily and Wuxi government sign a strategic cooperation agreement in Wuxi on Aug 23, 2017. [Photo provided to chinadaily.com.cn]
China Daily signed a strategic cooperation agreement with Wuxi government on Aug 23, marking a new stage in the two sides' partnership.
China Daily and Wuxi plan to work together more closely on several projects and deepen exchanges in a number of different fields to gain a win-win result.
The two sides have maintained a close relationship since China Daily set up a wholly owned subsidiary of China Daily Website in Wuxi National Hi-tech District in 2013. The subsidiary is still the only legally independent branch of China Daily in the Chinese mainland, apart from the company's Beijing headquarters.
This partnership was cemented in 2014, when China Daily and Wuxi signed a cooperation framework that saw China Daily take on responsibility for promoting Wuxi internationally through a number of different channels.
China Daily has been China's main window to the outside world since the China Daily newspaper, the first English-language Chinese newspaper in the country, was set up in 1981. The paper now has a global circulation of more than 900,000 copies per issue, of which two thirds are published abroad.
The total number of subscribers across all China Daily's media channels has exceeded 72 million, as of August 2017. It now publishes content via more than 10 channels, including the newspaper, websites, Facebook, Twitter and WeChat.
China Daily has attracted more than 27.43 million followers on Weibo, 21 million fans on Facebook,and 1 million Twitter followers.
The China Daily app has been downloaded by more than 7 million users and its WeChat feed has 2.64 million subscribers.
The China Daily Websitewent online in 1995 and has developed into China's most comprehensive English website.
Its Wuxi subsidiary is responsible mainly for building and operatingofficial websites, mobile apps and social media accounts for government agencies and institutions across the country.
It is also creating innovative content, including short videos, live streams and HTML5 mini-games to help its clients raise their global profiles.