China, Kazakhstan feel port's benefits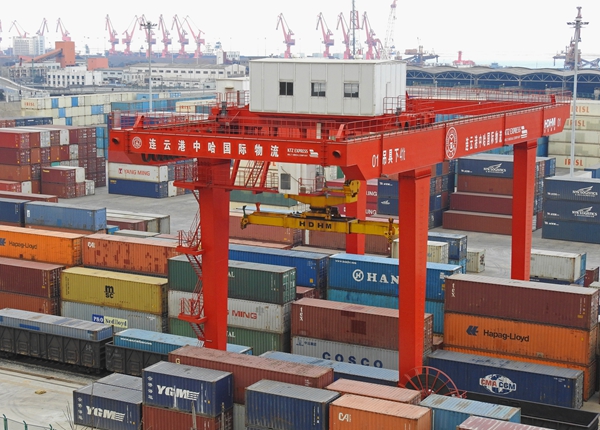 Containers are stacked in the logistics terminal waiting to be shipped in December at Jiangsu province's Lianyungang Port. The port is the first project of China and countries involved in the Belt and Road Initiative to start operating. GENG YUHE/CHINA DAILY
The logistics terminal in Jiangsu province's Lianyungang Port, built by China and Kazakhstan, has served as an important platform to improve economic cooperation, according to officials.
The first project between China and the countries involved in the Belt and Road Initiative, the Lianyungang logistics terminal has imported and exported 7.77 million metric tons of goods since it went into operation in 2014.
Goods imported and exported from January to July this year increased by 49 percent over the same period last year, according to the center.
Wang Qinmin, vice-chairman of the Chinese People's Political Consultative Conference and president of the All China Federation of Industry and Commerce, said China and Kazakhstan have paid great attention to bilateral relations, deepened political trust and expanded cooperation in many areas since they forged diplomatic ties 25 years ago.
Wang made the speech at the fifth China-Central Asia Cooperation Forum, which was held on Wednesday and Thursday in Lianyungang. More than 200 officials from China and Central Asia, including Uzbekistan, Tajikistan and Kyrgyzstan, attended the forum.
President Xi Jinping first proposed the Belt and Road Initiative in 2013. It comprises the Silk Road Economic Belt and the 21st Century Maritime Silk Road, with the aim of building a trade and infrastructure network that connects Asia with Europe and Africa along ancient trade routes.
The Lianyungang logistics terminal started construction soon after the proposal emerged, with investment in the first phase reaching 606 million yuan ($90.2 million).
"The Kazakhstan partners didn't expect that the construction could be finished in eight months," said Liu Bin, general manager of the logistics terminal. "They thought at least two to three years were needed, considering the mountainous environment.
"The logistics terminal started to make a profit the same year it started operations. It serves companies of the two countries well."
Su Yang, manager of the terminal's production business department, said freight trains running from Khorgos, a city in the Xinjiang Uygur autonomous region near the border with Kazakhstan, to Almaty now take just six days.
"It used to take 12 days to transport good between the two cities. With the joint effort of the two countries, the transportation time and costs have been greatly reduced," he said. "The freight trains between Lianyungang, Khorgos and Asian and European countries will benefit the economy, especially companies along the route."
Last year, more than 1,200 trains transited through Kazakhstan, with rail freight for the two countries reaching 8.2 million tons.
China and Kazakhstan have agreed to develop more international freight train services, starting from China and going via Kazakhstan to Central Asia, Europe and Gulf countries, making rail freight a major solution to trade between Asia and Europe by 2025.