Tianjin's Porcelain House to be auctioned in August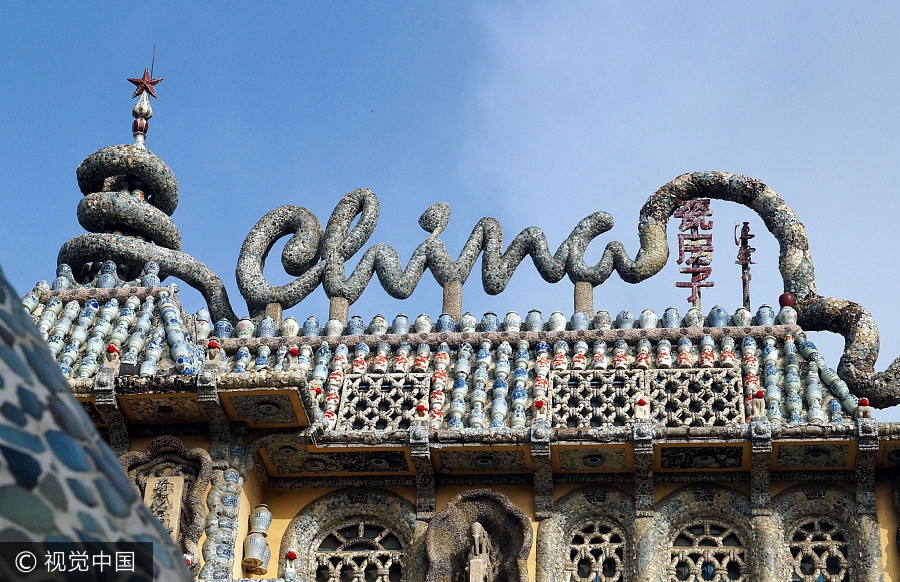 The Porcelain House in Tianjin is to be auctioned on August 8 to pay off its landlord's debt. [Photo/VCG]
A court in Tianjin has decided to auction a house decorated with ceramic chips on August 8 to pay off its landlord's debt.
The People's Court of Dongli District in Tianjin previously planned to do the public sale on July 22, but it was postponed for 17 days. The building's initial bidding price would be more than 140 million yuan ($20.8 million), the Beijing News reported.
The Porcelain House, located in Chifeng street, Heping district, is a four-story art museum owned by Zhang Lianzhi. Zhang has to sell the house due to an economic dispute, but he claimed the ceramic building was worth nearly 9.79 billion yuan ($1.5 billion), citing an assessment report from an evaluation company he commissioned.
Why the huge price difference?
The Porcelain House was originally a French style building dating back to the 1920s. It was the former residence of Huang Rongliang, a Chinese diplomat in the Republic of China era (1912 - 1949). Zhang bought it for 30 million yuan from Tianjin commercial authorities in 2000, according to Huang Xiaoyan, Zhang's assistant.
Zhang, a porcelain collector, began renovating the house in 2000. It took him 10 years to complete the decoration, which involved covering the inside and outside of the building with hundreds of thousands of porcelain pieces, a staff worker in the house said. The house opened to the public as a museum in 2007.
More than 700 million fragments of ancient porcelain, 13,000 ancient porcelain vases and bowls, and many other antiques were used in his decoration, as well as hundreds of pieces of furniture dating to Ming (1368 - 1644) and Qing (1644 - 1911) dynasties, claimed Zhang.
However, the court's evaluation excluded those porcelain pieces. Zhang and the building's bid winner can decide for themselves about the porcelain pieces after the deal is finished, a judge surnamed Zheng working at the Dongli district court told Tianjin media.
On the contrary, Zhang's assessment involved two parts: the house property that's worth 330 million yuan and the porcelain, 946 million yuan.