China intending to take lead with national AI plan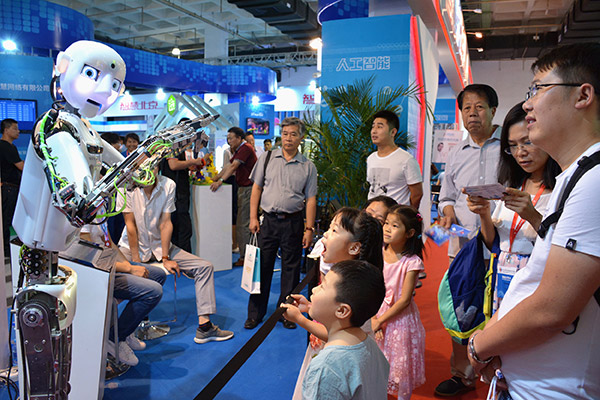 Delighted children and adults watch the performance of a robot at the 2017 China Beijing International High-Tech Expo on June 8. [Photo/China Daily]
China will roll out a slate of important artificial intelligence projects and step up efforts to cultivate AI talent as part of the country's upcoming national plan to gain a lead in the cutting-edge technology, a senior official said on Thursday.
Minister of Science and Technology Wan Gang said the country will soon release a national strategy to detail how to boost the development of AI through 2030.
China will launch a series of core AI research and development projects, devote more resources to nurturing talent, and accelerate the application of AI in education, healthcare, security and other sectors, Wang said at the World Intelligence Congress in Tianjin.
The plan is ready and will soon be released for public review, Wan said.
He also said more steps will be taken to build closer cooperation with international AI organizations and encourage foreign AI companies to set up R&D centers in China.
Thomas Jakob, Asia Pacific regional president at Bosch Software Innovations, which is the software and systems division of Germany's Bosch Group, said the new AI plan will have roughly the same impact on the industry as the government's Made in China 2025 initiative has had on the manufacturing sector.
"At the moment, 62 percent of investment into the AI industry is going to the US and Europe. This will change as what Wan said this morning will help China better nurture AI talent and improve in other areas," Jakob said.
China attaches high importance to AI, which is widely seen as an effective tool to boost industrial productivity and empower employees.
A report from consultancy firm PricewaterhouseCoopers forecasts that AI will contribute $15.7 trillion to the global economy in 2030 and China will be among the biggest beneficiaries of that, with a 26 percent boost to its GDP in 2030.
Robin Li, known as Li Yanhong in Chinese, CEO of Baidu Inc, said: "China will lead the world in AI development, since the country has about 700 million internet users who are highly responsive to new technologies. This is an edge no other countries can rival."
The internet titan has increased its AI spending and brought in former Microsoft executive Lu Qi to spearhead its plan of mass-producing driverless vehicles within four years.
Liu Qingfeng, chairman of the leading voice-recognition technology company iFlytek, said AI is highly technology-intensive and the upcoming national plan will motivate companies to emphasize basic science, the source of innovation.
"It will help domestic enterprises better access overseas resources and invest in foreign companies, and give China a bigger say in the global technology arena," Liu said.
The company is developing an AI-enabled robot capable of outscoring 80 percent of Chinese students in the national college admission exams to become eligible, theoretically, for admission to a top-level university in 2020.
Contact the writers at masi@chinadaily.com.cn